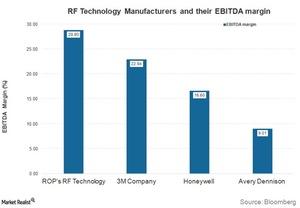 Exploring the Radio Frequency Technology Industry
By Jessica Stephans

Nov. 20 2020, Updated 12:04 p.m. ET
More about the radio frequency technology industry 
The medical device industry is now a mature industry. The last couple of decades have seen unprecedented growth in innovative and improved radio frequency technologies. This has led to rises in speed and accuracy. The ultimate goal of radio frequency technology is to improve visibility in global supply chains.
The global market for radio frequency identity technology is projected to reach $15.5 billion by 2020. The United States represents the industry's largest market worldwide, followed by the Asia-Pacific region. The two main standards organizations governing radio-frequency idenfitication standards on frequencies, protocols, and applications are the International Organization for Standardization (ISO) and EPC Global.
Article continues below advertisement
Top players in the US radio frequency technology industry
The top players in the US radio frequency technology industry are 3M Company (MMM), Checkpoint Systems (CKP), Avery Dennison (AVY), and Honeywell Industries (HON).
Changing market dynamics have created increasing demand for radio frequency technology products for organizations of all sizes.
Roper Technologies (ROP) makes up part of the PowerShares DWA Industrials Momentum ETF (PRN) and part of the PowerShares Water Resources ETF (PHO). PRN and PHO hold 4.0% and 7.1% of ROP, respectively. Investors will benefit if ROP shows a strong operating performance in 2016.
Let's read on to know more about Roper Technologies' Industrial Technology segment.