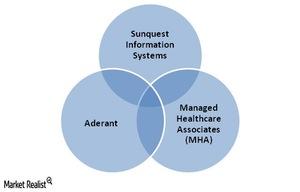 Roper Technologies: Recent Acquisitions That Count
Acquisition as a growth strategy
Since its inception, Roper Technologies (ROP) has followed an acquisition-based growth strategy. The company has acquired over 50 companies since 1981. ROP encourages independent companies operating beneath it to keep their cash flows heavy and their debts low so that it can take advantage of any accretive acquisition opportunities.
The company also issues medium- to long-term senior notes to fund these acquisitions. ROP made three acquisitions in 2014 and eight in 2015 for a total of 11 companies in just two years.
Sunquest, Managed Health Care Associates, and Aderant have been Roper's three largest acquisitions.
Article continues below advertisement
Sunquest
Roper Technologies acquired Sunquest Information Systems in August 2012 for ~$1.4 billion. Sunquest is a Tucson-based provider of diagnostic and laboratory information systems to healthcare providers worldwide. It will be part of Roper Technologies' Medical and Scientific Imaging Unit.
Sunquest is recognized for its comprehensive suite of clinical and anatomic laboratory software solutions, which are used by more than 1,700 hospitals globally.
Sunquest's software integrates vital data for hospital laboratories and improves workflow. Sunquest is expected to complement and expand Roper Technologies' medical platform. Sunquest was expected to contribute more than $140 million to ROP's EBITDA (earnings before interest, tax, depreciation, and amortization) in 2013.
Article continues below advertisement
MHA
Roper Technologies acquired Managed Healthcare Associates (or MHA) in April 2013 for ~$1.0 billion in cash. MHA is based in New Jersey. It supplies technology services to alternative healthcare providers such as pharmacies and assisted-living facilities.
MHA will be part of Roper Technologies' Medical and Scientific Imaging Unit. MHA was expected to contribute more than $95 million to ROP's EBITDA in 2013.
Aderant
Roper Technologies acquired Aderant in October 2015 for a purchase price of ~$675 million. Aderant is based in Atlanta. It's a global provider of business management software for legal and other professional services. It supplies technology services to over 3,000 clients in more than 30 countries. It services 77 of the 100 global law firms and more than 88% of the Am Law 200. Aderant is expected to generate ~$125 million in revenue and ~$35 in EBITDA in 2016.
Investors who believe that ROP's acquisition strategy will help it to grow aggressively in the future can consider investing in the PowerShares Water Resources ETF (PHO), which holds 7.1% in ROP. Investors will benefit if ROP shows better-than-expected operating performance in 2016 and continues paying dividends.
Pentair (PNR), Water Corporation (WAT), and American Water Works (AWK) are among the top ten holdings of PHO. They account for 8.8%, 8.0%, and 8.0% of its holdings, respectively.
Let's analyze whether Roper Technologies is well-equipped to fund its future acquisitions.