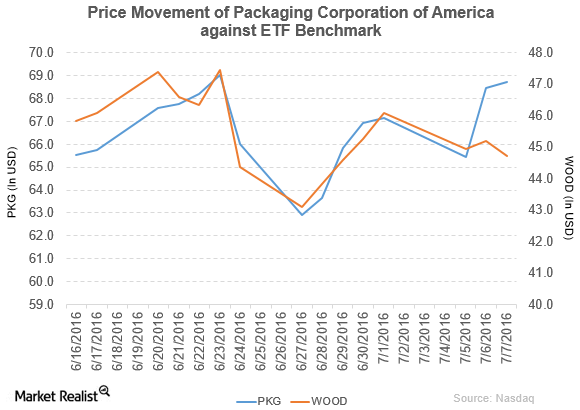 Moody's Says PKG's TimBar Acquisition Is Credit Positive
<p>Packaging Corporation of America rose by 0.34% to close at $68.71 per share on July 7. Its weekly, monthly, and YTD movements were 4.3%, -2.6%, and 11.0%.</p>
Price movement
Packaging Corporation of America (PKG) has a market cap of $6.5 billion. It rose by 0.34% to close at $68.71 per share on July 7, 2016. The stock's weekly, monthly, and YTD (year-to-date) price movements were 4.3%, -2.6%, and 11.0%, respectively, on the same day. This means that PKG was trading 2.9% above its 20-day moving average, 3.6% above its 50-day moving average, and 13.0% above its 200-day moving average on July 7.
Article continues below advertisement
Article continues below advertisement
Related ETF and peers
The iShares Global Timber & Forestry ETF (WOOD) invests 3.8% of its holdings in PKG. The ETF tracks the 25 largest publicly listed companies that own or manage forests and timberlands. The YTD price movement of WOOD was -6.4% on July 7.
The market caps of PKG's competitors are as follows:
Moody's comment on PKG's new acquisition
Packaging Corporation of America (PKG) has entered into a definitive agreement with TimBar Packaging & Display, a large independent corrugated products producer. Under the agreement, PKG will acquire all of TimBar's assets.
The assets include five corrugated products plants, two fulfillment centers, and four design centers located primarily in the Eastern and Southeastern US. It will be a cash-free, debt-free transaction for a cash purchase price of $386 million.
Article continues below advertisement
Packaging Corporation said, "As a result of the acquisition, [Packaging Corporation's] containerboard integration level is expected to increase by over 200,000 tons or 6% from its current level of 87% and will allow for further optimization and enhancement of mill capacity. The value of the increased containerboard integration, the expected synergies and the tax benefit of the step-up of assets, plus TimBar's LTM EBITDA (earnings before interest, tax, depreciation, and amortization), results in a purchase price multiple of approximately 4.3 times EBITDA. The acquisition will be accretive to earnings immediately."
Moody's Investors Service said that the PKG's acquisition of TimBar is a credit positive. Moody's also kept PKG's Ba3 senior unsecured rating and stable outlook unchanged.
Packaging's 1Q16
For 1Q16, Packaging Corporation reported net sales of $1.4 billion, a decline of 1.7% over the $1.42 billion we saw in 1Q15. Sales from PKG's packaging and paper segments fell by 0.35% and 5.7%, respectively, in 1Q16 over 1Q15.
The company's cost of sales as a percentage of net sales fell by 2.4%, and its operating income rose by 15.1% YoY in 1Q16.
Its net income and EPS (earnings per share) rose to $102.6 million and $1.09, respectively, in 1Q16, as compared to $89.6 million and $0.92, respectively, in 1Q15. It reported non-GAAP (generally accepted accounting principles) EBITDA of $269.5 million in 1Q16, an increase of 7.6% compared to 1Q15.
Next, we'll take a look at Ford Motor.