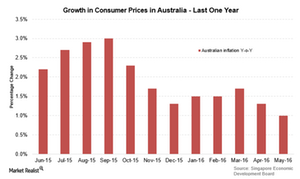 Inflation Levels in Australia Exhibit a Sluggish Increase
Inflation levels release below expectations
Inflation levels in Australia rose by 1.0% in 2Q16—slightly below estimated forecasts of a 1.1% rise and softer than the previous quarter's rise of 1.3%. The inflation levels were recorded at their lowest level since 2Q99. On a quarterly basis, consumer prices increased by 0.4% in the second quarter—in line with expectations and a decline of 0.2% in the previous quarter. The iShares MSCI Australia (EWA) fell by 0.39%, while the iShares MSCI All Country Asia ex Japan (AAXJ) rose by 0.19% at 3:00 PM EST on July 27.
Article continues below advertisement
Article continues below advertisement
Will the RBA cut rates more?
The RBA's (Reserve Bank of Australia) targeted level for inflation is 2%–3% to stoke sustainable growth in the economy. The interest rates were cut in May. The central bank might want to wait for the effect to take over before easing the monetary policy more. The RBA's recent minutes indicated that the central bank has room to cut rates more if required. In the medium term, the cash rate is expected to remain low in order to support price levels. The Vanguard FTSE Pacific (VPL) and the iShares Asia 50 (AIA) rose by 0.1% and 0.25%, respectively, at 3:00 PM EST on July 27.
Thai trade surplus rises, imports fall lower than exports
Thailand's trade surplus increased to $1.97 billion for June—compared to a surplus of $150 million in the previous year. While exports fell by 0.1% in June, imports fell by 10.1% on an annual basis. This reflects subdued demand domestically due to high household debt in the economy. The iShares MSCI Thailand Capped (THD) rose by 0.68% at 3:00 PM EST on July 27.