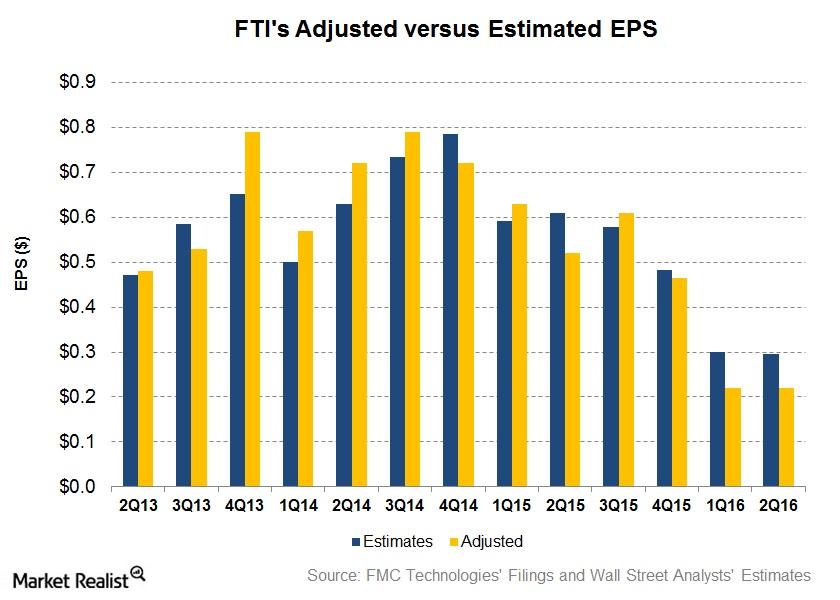 Why Did FMC Technologies's 2Q16 Earnings Miss Estimates?
FMC Technologies's 2Q16 revenues
FMC Technologies (FTI) released its 2Q16 financial results on July 20. The company recorded total revenues of ~$1.2 billion in 2Q16, down by ~32% from ~$1.7 billion recorded in 2Q15.
FMC Technologies's revenues for the latest quarter decreased mostly due to upstream companies' lower drilling activity. A stronger US dollar also affected FTI's 2Q16 revenues negatively.
Article continues below advertisement
Article continues below advertisement
FMC Technologies's 2Q16 earnings
The 2Q16 adjusted net earnings per share (or EPS) for FMC Technologies is $0.22. This fell short of consensus sell-side analysts' EPS estimate by 25%. Operating losses in the Surface Technologies segment and lower Subsea Technologies segment operating income resulted in FTI's earnings falling short of analysts' estimates.
Compared to 2Q15, when FTI's adjusted earnings were $0.52, earnings declined by 58% in 2Q16. In the past 13 quarters, adjusted earnings nearly matched analysts' estimated earnings.
In comparison, analysts expect CARBO Ceramics's (CRR) 2Q16 adjusted net loss to deteriorate to $0.90 compared to an adjusted net loss of $0.86 in 1Q16. FMC Technologies comprises 0.07% of the SPDR S&P 500 Value ETF (SPYV). Energy makes up 12.9% of SPYV.
What affected FMC Technologies's reported earnings in 2Q16?
In 2Q16, FTI's reported net income was ~$2.2 million. This was ~98% lower compared to 2Q15, when FTI reported net income of $107.9 million. Year-over-year, FTI's income decline reflects a lower rig count, as well as lower exploration and drilling spending by upstream companies, driven by lower energy prices.
The 2Q16 reported net income was also reduced by $61 million pre-tax charges including restructuring and other severance charges, business combination transaction costs,[1. related to the proposed combination with Technip] and Nigerian currency devaluation. Compared to 1Q16, when FMC Technologies reported net income of ~$20 million, the company's 2Q16 reported earnings deteriorated further.
Please read FMC Technologies and Technip to Form Energy Services Giant to learn more about the proposed merger.
Next, we will discuss FTI's growth drivers.