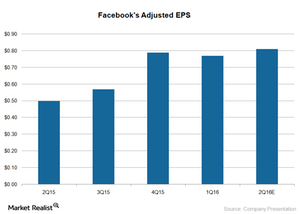 Why Facebook Is Expected to Report Strong 2Q16 Earnings
Analysts remain upbeat on Facebook
Facebook (FB) is set to report its 2Q16 earnings on Wednesday, July 27. Analysts expect the company to post EPS (earnings per share) of $0.81, reflecting an increase of about 56% YoY (year-over-year).
Meanwhile, Twitter (TWTR) and Google (GOOG) are expected to announce their quarterly results on July 26 and July 28, respectively.
Facebook has had a decent run in the past three quarters. In fact, the company reported stellar 1Q16 results, crushing all estimates thanks to its strong advertising revenues.
Article continues below advertisement
Advertising revenue and cost efficiency to drive the bottom line
The company's advertising revenue rose 57% YoY to $5.2 billion in 1Q16 while mobile advertising revenue saw phenomenal growth. Facebook is expected to report strong growth in mobile advertising revenue in 2Q16 as well. The "Payments and other fees" revenue fell 20% YoY to $181 million due to a decline in payments revenue from games played on personal computers. As users shift from computers to mobile devices, the company expects a decline in payment revenue due to less use in the coming quarters.
Facebook has managed to trim down costs, which in turn is likely to benefit the company's bottom-line results. In 1Q16, Facebook's total costs and expenses as a percentage of revenue fell 3 percentage points YoY. The company's operating margin expanded to 55.3%, representing an increase of 3.4 percentage points YoY.