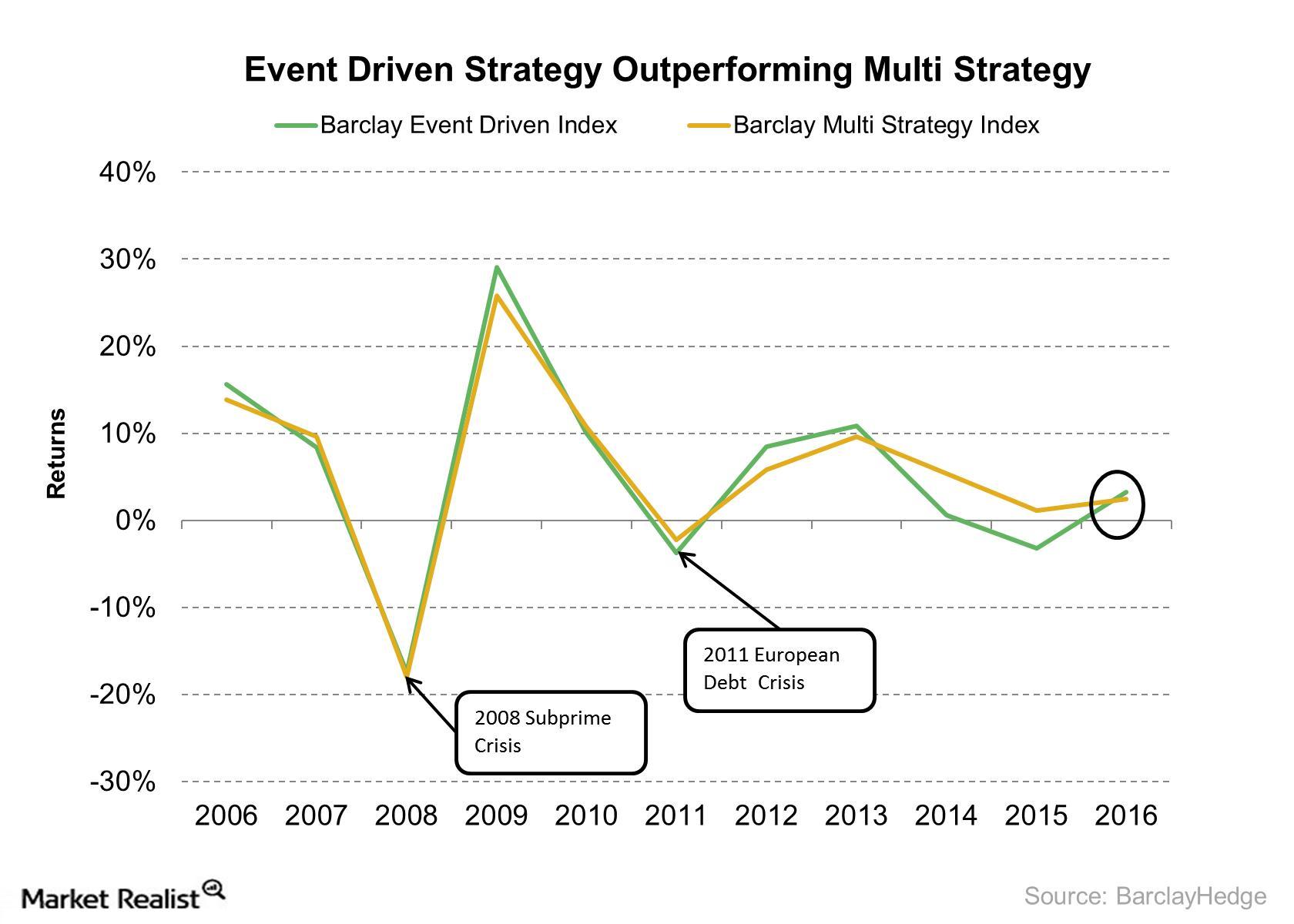 Event-Driven Strategy in a Volatile Market
Event-driven strategy
Event-driven strategy is designed to make an investment in special situations. Special situations include mergers and acquisitions, strategic restructuring, split-offs, bankruptcy, and other major events that affect investor sentiment in the Market.
Event-driven strategies focus on creating opportunities ahead of important events that could affect investor sentiment. Normally, volatility is high in the Market (IWM) (QQQ) before such events. Volatility is created as a result of various sentiments that guide asset prices. Fund managers use a variety of programmed arbitrage strategies to take advantage of this volatility and generate returns.
The biggest event in the month of June was the UK referendum vote to leave the European Union. The vote created downward pressure in global financial markets. Investors worried about global uncertainty and global growth.
Many fund managers use these events to make a profit. Whoever shorted the British pound made huge gains, and whoever took the opposite direction had huge losses.
Article continues below advertisement
Returns provided by Barclay Event Driven Index
The Barclay Event Driven Index returned 0.23% in June 2016. It's the fifth consecutive month of positive performance for the index this year. On a year-to-date (or YTD) basis, the index returned 3.8% as of June 30, 2016.
The HFRX Event Driven Index posted a return of 1.4%. In the event-driven strategy, the HFRX Distressed Restructuring Index returned 1.8% in June 2016 and 7.4% YTD as of June 30, 2016. The return comes from investments in energy (XLE) (IYE) and basic materials (XLB).
The HFRX Special Situations Index returned 1.3% from its positioning in Yahoo (YHOO), SABMiller, and LinkedIn (LNKD). The HFRX Merger Arbitrage Index rose 0.04%.
Funds based on event-driven strategies
The BlackRock Event Driven Equity Fund (BILPX) mainly focuses on equities that are undergoing corporate events such as mergers and acquisitions, strategic restructuring, and spin-offs. YTD as of July 6, 2016, BILPX has returned 2.0%.
The Fidelity Event Driven Opportunities Fund (FARNX) mainly focuses on companies that are undergoing changes in beneficial ownership, changes in management structure, and changes in capital structure. YTD as of June 30, 2016, FARNX has returned 2.0%.
In the next part of this series, we'll analyze the performance of the equity long bias hedge fund strategy.