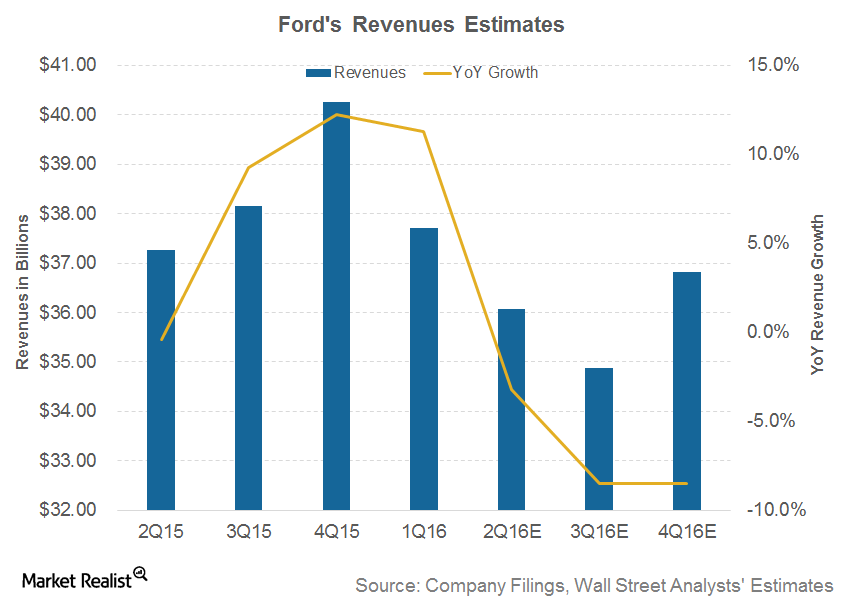 Can Ford Sustain Its Revenue Growth?
Trend in Ford's revenues
In 1Q16, Ford (F) reported an 11.3% year-over-year (or YoY) rise in its global revenue, which was $37.7 billion compared to $33.9 billion in 2Q15. This higher revenue was mainly driven by factors such as a rise in its F-series and fleet sales.
In the last three consecutive quarters, the company has managed to post YoY positive growth in its revenues. Now let's take a look at analysts' estimates for Ford's revenues in the coming quarters.
Article continues below advertisement
Article continues below advertisement
Analysts' estimates
Analysts estimate Ford's 2Q16 revenue to be $36.1 billion, about 3.2% lower than it was in 2Q15.
Along with analysts' recommendations, it's also important for investors to pay attention to these revenue estimates. They may reflect market expectations for the company, and they can also serve as proxies for what might be priced in to the market.
In 1Q16, Ford made nearly 63% of its total revenue from North America. The company received its remaining revenue from other geographical markets.
Continued strength in US auto sales suggests optimism for Ford's revenue. However, the company has recently been facing challenges in its other key markets such as Europe and certain regions of Asia. This could be a reason why analysts expect Ford's revenue to fall slightly in the coming quarters.
Among other mainstream automakers (XLY), General Motors (GM), Fiat Chrysler (FCAU), and Toyota Motor (TM) make the majority of their revenues from the US market.
2016 and 2017
Going forward in 2016 and 2017, Ford's revenues are estimated to be around $145.8 billion and $148.3 billion, respectively—marginally lower than its revenue of $149.6 billion in 2015.
Analysts' revenue estimates for Ford's direct competitor General Motors also suggest stagnation in its revenue. Analysts estimate that GM's revenue will remain steady at $151.8 billion in 2016, about 0.4% lower than it was in 2015.
Read on to the next article to find out what analysts are estimating for Ford's margins and profitability.