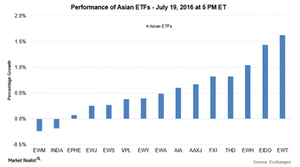 Australian Dollar Rises ahead of the RBA's Minutes
By David Meyer

Jul. 19 2016, Published 6:33 a.m. ET
Australian dollar is rising
The Australian dollar rose ahead of the release of the RBA's (Reserve Bank of Australia) minutes. The Australian dollar could gain more if the RBA doesn't provide a strong hint of cutting interest rates, even though the central bank is concerned about the growth in the economy after the United Kingdom's referendum. The iShares MSCI Australia ETF (EWA) and the Vanguard FTSE Pacific ETF (VPL) rose by 0.49% and 0.38% at 5 PM EST on July 18.
Article continues below advertisement
Appreciation in the Singapore dollar
The trade balance for Singapore increased to 5.2 billion Singapore dollars in June—compared to 4.8 billion Singapore dollars last year. Exports fell by 3.6% on an annual basis in June—compared to a fall of 2.2% in the previous month. On the other hand, imports fell by 6.6% in June on an annual basis—compared to a decrease of 0.9% in May. The Singapore dollar has been appreciating since the beginning of the month due to huge inflows as investors are shifting their funds in safe-havens assets. The increased strength in the Singapore dollar against the US dollar is putting pressure on the country's central bank to act in order to boost the growth engine in the South Asian economy. The iShares MSCI Singapore ETF (EWS) and the iShares MSCI All Country Asia ex Japan ETF (AAXJ) increased by 0.27% and 0.67% at 5 PM EST on July 18.
Retail sales rise in Indonesia
Among other Asian economies, retail sales in Indonesia increased by 13.5% on an annual basis in May—higher than 11.2% growth in the previous month. The increase in retail sales touched one-year high levels, bolstered by an increase in the sale of electronics, food, beverages, and tobacco—partially offset by a fall in clothing sales. Indonesia's trade balance released on Friday last week at a surplus of 0.9 billion dollars for June—up from 0.53 billion dollars in the previous month. While exports fell by 4.4% on an annual basis in June, imports fell by 7.4%. The iShares MSCI Indonesia ETF (EIDO) was trading higher by 1.4% at 5 PM EST on July 18.