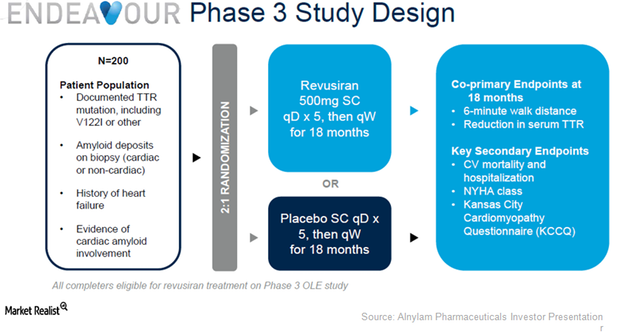 ALNY Should Complete Revusiran's Endeavour Trial Enrollment in Late 2016
By Margaret Patrick

Jul. 14 2016, Updated 9:05 a.m. ET
Revusiran's Endeavour trial
Alnylam Pharmaceuticals (ALNY) expects to complete enrollment of clinical subjects for Revusiran's Phase 3 trial, Endeavour, in late 2016. The company further expects clinical data readout from this study in mid-2018.
Being the most advanced subcutaneously delivered RNAi investigational drug in the company's research pipeline, Revusiran is expected to be a key driver of the company's future share prices and valuation multiples.
If Revusiran is approved by the regulatory bodies for commercialization, it may also boost share prices of the First Trust NYSE Arca Biotechnology Index ETF (FBT). Alnylam Pharmaceuticals makes up about 3.2% of FBT's total portfolio holdings.
Article continues below advertisement
Study design
With an expected enrollment of 200 clinical subjects, Endeavour Phase 3 trial aims to test the efficacy and safety profile of Revusiran as therapy for hereditary ATTR amyloidosis with cardiomyopathy (or hATTR-CM). The trial is designed as a randomized, double-blinded, placebo-controlled study.
The key endpoints are a six-minute walk distance and percent decline in serum TTR for patients who were administered the drug for 18 months compared with those who were delivered a placebo.
According to Cancer.Net, "A placebo is an inactive drug or treatment in a clinical trial. It is sometimes referred to as a 'sugar pill.' A placebo-controlled trial compares a new treatment with a placebo."
The Pulmonary Hypertension Association explains a six-minute walk test as one that "simply measures the distance that a patient can walk on a flat, hard surface in a period of 6 minutes. Nonetheless, the result reflects the integrated exercise response of complex physiology involving the pulmonary and cardiovascular systems, systemic and pulmonary circulations, and neuromuscular function."
The study will be conducted at 60 sites around the world. On April 7, 2016, the FDA placed a clinical hold on the Phase 3, CARDIO-TTR study, targeted at studying the efficacy and safety of the investigational therapy, IONIS-TTRRx, in patients with TTR amyloid cardiomyopathy.
IONIS-TTRRx is developed by Ionis Pharmaceuticals (IONS) and GlaxoSmithKline (GSK). According to Ionis Pharmaceuticals's chief operating officer, Lynne B. Parshall, "A clinical hold is a tool the FDA often uses while a sponsor answers questions the FDA may have about a clinical study." This has made it easier to enroll patients in the Endeavour study, due to the lack of competition.
If the Endeavour study results in positive data, Alnylam Pharmaceuticals may become a major rare disease player like its peers United Therapeutics (UTHR) and Vertex Pharmaceuticals.
In the next article, we will study results from the Phase 2 open-label extension study of Revusiran in greater detail.