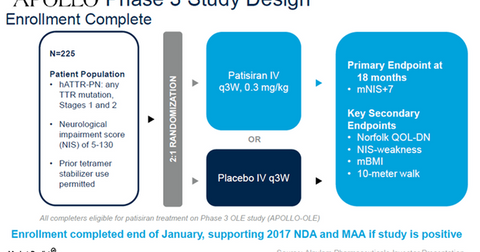 ALNY Completes Enrollment for Patisiran's Phase 3 Trial in 2016
By Margaret Patrick

Updated
Patisiran's Phase 3 trial
In 1Q16, Alnylam Pharmaceuticals (ALNY) completed enrollment of clinical subjects for its Phase 3 trial, Apollo. This trial aims to study the efficacy and safety of Patisiran as a treatment for hereditary ATTR amyloidosis with polyneuropathy (or hATTR-PN). This study has been designed as randomized, double-blinded, and placebo-controlled trial.
MedicineNet explains randomized clinical trials as those "in which the participants are assigned randomly (by chance alone) to different treatments."
Article continues below advertisement
MedicineNet notes that a double-blinded study is defined as a "medical study in which both the subjects participating and the researchers are unaware of when the experimental medication or procedure has been given. Double-blinded studies are often used when initial studies shows particular promise."
ClinicalTrials.gov defines a placebo as "a substance that does not contain active ingredients and is made to be physically indistinguishable (that is, it looks and tastes identical) from the actual drug being studied." In a placebo-controlled study, "patients receiving the new treatment are compared with those which receive a placebo."
Study design
Despite the company expecting only 200 enrollments, 225 human patients enrolled for this trial. This underlines the confidence of the physician and patient community in the success of this rare disease therapy.
To establish the efficacy of Patisiran, Alnylam Pharmaceuticals will primarily study the difference in modified Neuropathy Impairment Score (or mNIS+7) metric as displayed by patients on therapy and those on a placebo after period of 18 months. The trial will be conducted across 40 sites in 20 countries in the world.
Alnylam Pharmaceuticals has reported that half of its Apollo 3 Study enrollments have been found to display cardiac involvement. If Patisiran is proved to be effective in these patients, it may further strengthen the drug's label.
Rare disease player
Alnylam Pharmaceuticals is expected to become a major rare disease player, similar to peers such as Ionis Pharmaceuticals (IONS), United Therapeutics (UTHR), and Vertex Pharmaceuticals (VRTX).
It could also benefit the share prices of the iShares Russell Mid-Cap Growth ETF (IWP). Alnylam Pharmaceuticals makes up about 0.14% of IWP's total portfolio holdings.
In the next article, we will study results from the Phase 2 open-label extension study of patisiran in greater detail.