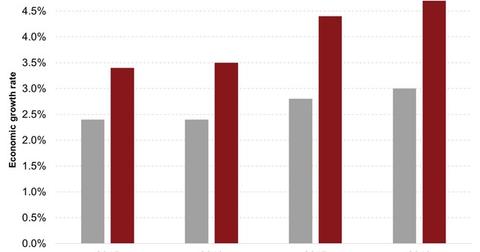 Behind the World Bank's Outlook for Growth in Emerging Markets
By David Ashworth

Updated
Responsibility for global growth decline
In the opening part of this series, we highlighted that the World Bank has downwardly revised its global growth forecast by 0.5%. The institution pointed out that EMDEs (emerging markets and developing economies) were responsible for nearly half of this downward revision in global growth.
The main reason for the same was "a significant downgrade to the growth forecasts for commodity exporters, amid heightened domestic uncertainties and a more challenging external environment."
Article continues below advertisement
Projections for EMDEs
EMDEs (EEMV) (VWO) saw their economic growth contract to 3.4% in 2015, as compared to 4.2% one year previously. For 2016, although the World Bank expects growth to tick up to 3.5%, the projection is still 0.6% lower than its January projections.
Forecasts for 2017 and 2018 have also been reduced, though the reduction is lower than it was for 2016. Economic growth for EMDEs is expected to be 4.4% in 2017 and 4.7% in 2018.
Commodity exporters versus importers
The World Bank was quick to point out that there's a stark difference between the economic growth rates of commodity-exporting and commodity-importing EMDEs. For this year, commodity-exporting EMDEs are expected to grow by a meager 0.4%—sharply lower than the 1.6% pace estimated in January. On the other hand, the growth rate of commodity-importing EMDEs is projected to be 5.8% and continue growing at close to that level until 2018.
The World Bank made some other interesting observations. It said that 2015 was the fifth consecutive year of economic slowdown in EMDEs (EWM) (EZA) (SCHE), and that now these nations comprise ~50% of global growth, as compared to over 60% in 2010–2014.
Investors around the world have become very cautious about investing in emerging markets, especially in light of monetary policy tightening in the US.
Let's look at the World Bank's views on China.