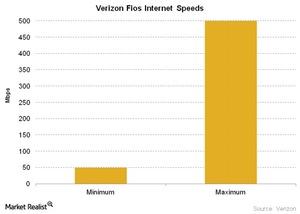 Verizon and Cablevision: Market Share after the Altice Transaction
Cablevision's Internet speeds in the future
In the earlier parts of this series, we learned that the Cablevision (CVC) acquisition by Altice (ATCEY) is expected to close soon. The New York Public Service Commission (or PSC) put forth some conditions for the Cablevision transaction, which were accepted by both companies on June 16, 2016.
According to the PSC, as part of these conditions, "Altice will triple the speed of its network to 300 Mbps by the end of 2017, increase high-speed broadband access in rural and urban communities in its service territory, provide new low-income broadband offerings and deliver free broadband Internet access to 40 anchor institutions in unserved or underserved areas."
Article continues below advertisement
Verizon Fios and Cablevision
An improving broadband proposition with higher Internet speeds should positively affect Cablevision (CVC), considering the competitive dynamics in its industry. Verizon (VZ) and Frontier Communications (FTR) are among Cablevision's competitors.
Verizon Fiis's Internet speeds range from 50 Mbps to 500 Mbps. Cablevision estimates that by the end of 1Q16, Verizon Fios competed with it in the majority of its footprint. Cablevision added that Frontier competes with CVC in its Connecticut service area.
According to Moody's Investors Service, it "expects Verizon to gain market share if Cablevision stumbles operationally. However, Cablevision's industry leading market share reflects solid operating performance, despite weak overall industry video subscriber trends."
By the end of 1Q16, high-speed data penetration in Cablevision's serviceable passings totaled 55.6%.
For diversified exposure to some of the top cable companies in the US, you may consider investing in the SPDR S&P 500 ETF (SPY). SPY held a total of ~0.9% in Comcast (CMCSA) (CMCSK) and Cablevision (CVC) at the end of May 2016.