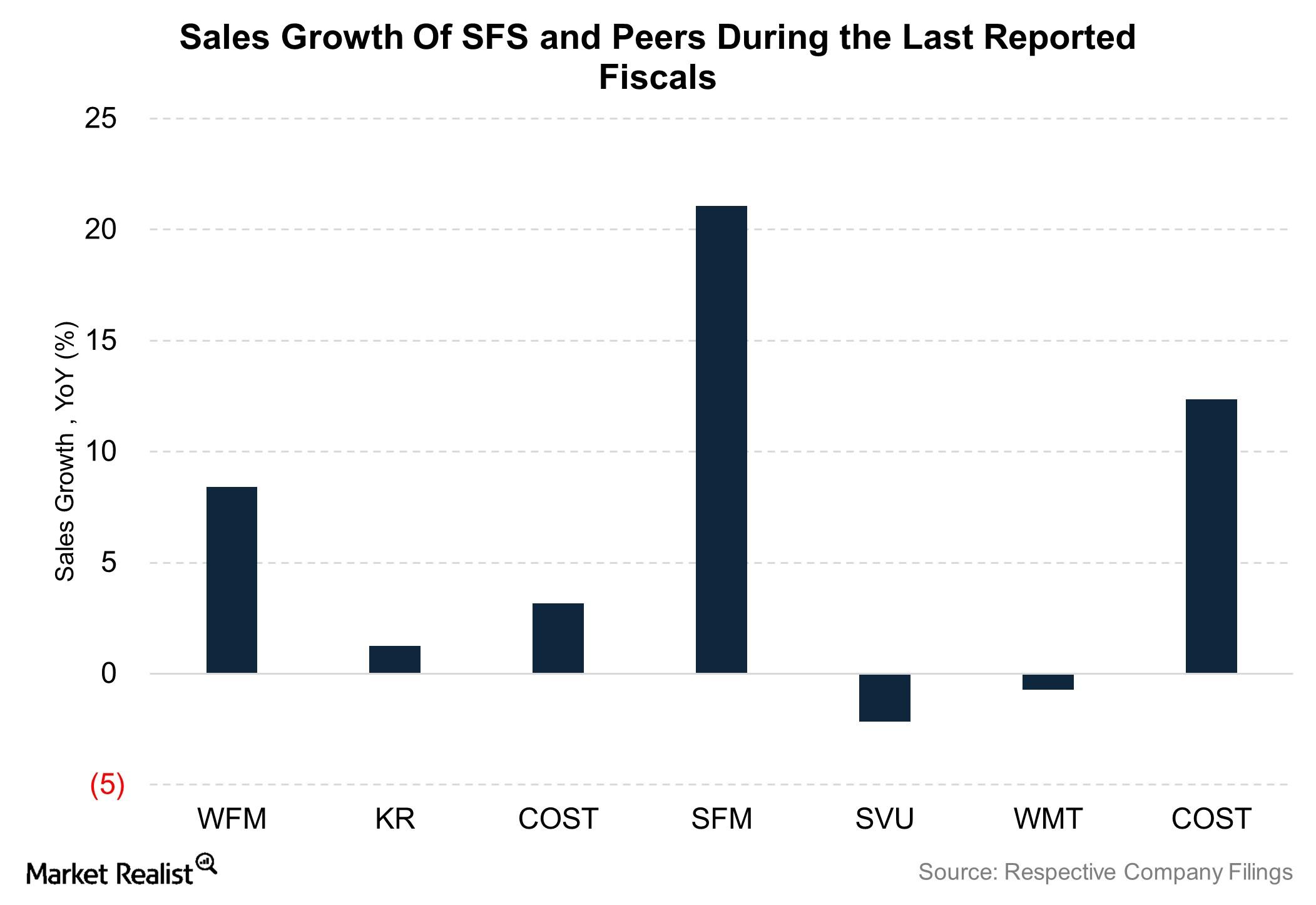 What Are Smart & Final Stores' Key Revenue Drivers?
By Sonya Bells

Jun. 6 2016, Updated 9:07 a.m. ET
A look at SFS's revenue drivers
Smart & Final Stores (SFS) recorded strong financial results in 2015. The company's top line rose by more than 12%, outshining the performances of most of its competitors.
While mass merchandisers Costco (COST) and Walmart (WMT) saw their sales rise by 3.1% and -0.7%, respectively, in their last-reported years, supermarket giant Kroger (KR) reported a 1.3% rise in its top line.
SFS's strong business model has helped it to increase its same-store sales and to drive higher traffic to its stores. It operates as a value-oriented food retailer and follows a deep discount model by offering its products at "everyday low prices."
SFS follows a non-membership–based warehouse format. The company's stores are smaller in size than many warehouse format stores and are often located in dense markets.
Article continues below advertisement
Value-focused merchandise offering
SFS follows the "everyday low prices" strategy in all its stores. Pricing in its Smart & Final stores is targeted to be lower than in traditional grocery stores and competitive with large discount stores and warehouse clubs.
Pricing in its Cash & Carry stores is targeted to be lower than that of its foodservice delivery competitors and competitive with that of typical warehouse clubs.
To keep its prices in check, SFS conducts price comparisons for its products at least once a month. For more sensitive items, this comparison is conducted every week. SFS constitutes 0.26% of the SPDR S&P Retail ETF (XRT) and 0.1% of the iShares Morningstar Small-Cap ETF (JKJ).
Non-membership warehouse club
One feature that differentiates SFS from other warehouse clubs is that SFS doesn't charge any membership fees in its stores. In typical warehouse clubs, customers need to sign up as members by paying an annual membership fee. For example, Costco charges an annual membership fee of $55. Walmart's Sam's Club charges a membership fee of $45 per year and offers a plus membership for $100 per year. BJ's Wholesale Club offers personal and business memberships for $50 per year.
In addition, SFS serves its diversified customer base through a variety of product sizes and product types. Read on to the next section to know more about the company's sales structure.