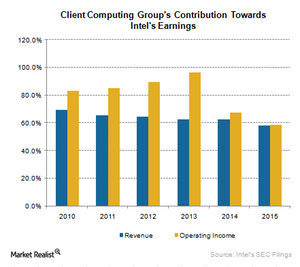 Slowing PC Shipments Hit Intel's Earnings
Slowdown in PC shipments affects Intel's earnings
In the previous part of the series, we saw that the PC market is slowing as smartphones and tablets replace PCs in some areas and slowing technology upgrades are making the PC replacement cycle longer. These two trends have had a significant impact on Intel (INTC) and Advanced Micro Devices' (AMD) earnings.
As we saw earlier, Intel earned 58% of its 2015 revenue from the CCG (client computing group). Hewlett-Packard (HPQ), Dell, and Lenovo, the top three PC vendors, contributed more than 40% to Intel's revenue.
Article continues below advertisement
CCG's performance
As the PC demand slowed, Intel started reducing its exposure in the CCG segment. The segment's contribution towards the company's revenue fell from 70% in fiscal 2010 to 58% in fiscal 2015. Despite slowing revenue, CCG has been Intel's most profitable segment to date. The segment's revenue fell as the unit sales fell while its profitability rose as ASP (average selling price) rose.
In 2013, Intel earned 96% of its operating income from CCG. However, in 2014, the unit sales rose 20% YoY (year-over-year) while its ASP fell 15% YoY, affecting the segment's contribution towards overall profits.
In 2015, Intel combined its loss-making mobile segment with the profit-making PC segment, which further affected CCG's contribution towards the company's operating income. During the year, unit sales fell 11% YoY while ASP rose 4% YoY driven by an enterprise refreshment cycle in fiscal 3Q15.
Given the slowdown in the PC space, Intel started reducing its exposure to the computer market, but it still accounts for 58% of the company's operating income.
Intel's management on CCG
At the Sanford C Bernstein Strategic Decisions Conference 2016, Intel CEO, Brian Krzanich, said, "PC is really what gives us the volume and scale that allows us to drive Moore's law and it funds those investments and the $9 billion a year of CapEx that it takes to keep growing in these markets. It helps us drive our memory and our SSDs (solid state drives). All of those things come spin-off from the PC technology."
While competition is no threat to Intel in the PC space, technology stagnation is. The company partnered with Microsoft (MSFT) to boost PC sales. Brian Krzanich stated that the company would continue its technology efforts in the PC space in order to sustain its profitable business.
Next, we'll look at the various strategies that Intel has adopted to sustain itself in the PC space. The SPDR S&P 500 ETF (SPY) has holdings in US equities listed on the S&P 500 Index. It has 0.81% exposure in INTC, 0.13% in HPQ, and 2.2% in MSFT.