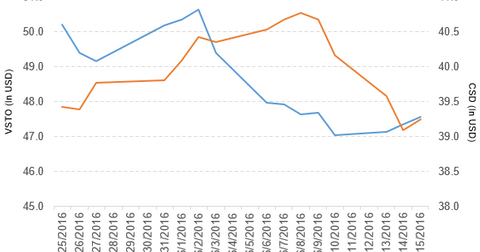 Roth Capital Rated Vista Outdoor as a 'Buy'
By Gabriel Kane

Updated
Price movement of Vista Outdoor
Vista Outdoor (VSTO) has a market cap of $2.9 billion. It rose by 0.44% to close at $47.56 per share on June 15, 2016. The stock's weekly, monthly, and year-to-date (or YTD) price movements were -0.17%, -2.0%, and 6.9%, respectively, on the same day.
This means that VSTO is trading 2.1% below its 20-day moving average, 1.9% below its 50-day moving average, and 2.0% above its 200-day moving average.
Related ETFs and peers
The Guggenheim Spin-Off ETF (CSD) invests 4.6% of its holdings in Vista Outdoor. The ETF tracks an index of US-listed stocks spun off from corporate parents over the past 30 months. The index holds companies of all sizes. The YTD price movement of CSD was 2.1% on June 15, 2016.
The iShares Morningstar Small Core ETF (JKJ) invests 0.55% of its holdings in Vista Outdoor. The ETF tracks a market-cap-weighted index of US small-cap core stocks. The index selects stocks from 90%–97% of market cap that falls into Morningstar's core style categorization.
The market caps of Vista Outdoor's competitors are as follows:
Vista Outdoor's rating
Roth Capital has initiated the coverage of Vista Outdoor with a "buy" rating and also set the stock price target at $55.00 per share.
Performance of Vista Outdoor in 4Q16 and 2016
Vista Outdoor (VSTO) reported fiscal 4Q16 net sales of $612.3 million, a rise of 26.1% as compared to net sales of $485.4 million in fiscal 4Q15. The company's cost of sales as a percentage of net sales fell by 2.0%, and its EBIT (earnings before interest and tax) rose by 75.2% in fiscal 4Q16 as compared to the prior year period.
The company's net income and EPS (earnings per share) rose to $37.3 million and $0.61, respectively, in fiscal 4Q16, as compared to $15.9 million and $0.25, respectively, in fiscal 4Q15. It reported adjusted EPS of $0.63 in fiscal 4Q16, a rise of 34% over fiscal 4Q15.
Fiscal 2016 results
In fiscal 2016, Vista Outdoor reported net sales of $2.3 billion, a rise of 9.0% YoY (year-over-year). Its net income and EPS rose to $147 million and $2.35, respectively, in fiscal 2016, compared to $79.5 million and $1.25, respectively, in fiscal 2015.
Vista Outdoor's cash and cash equivalents fell by 42.5%, and its inventories rose by 17.2% in fiscal 2016. Its current ratio fell to 2.8x, and its debt-to-equity ratio rose to 0.77x in fiscal 2016, as compared to a current ratio and a debt-to-equity ratio of 3.3x and 0.52x, respectively, in fiscal 2015. It reported free cash flow of $163 million in fiscal 2016, a rise of 2.0% as compared to fiscal 2015.
Projection
Vista Outdoor (VSTO) has made the following projections for fiscal 2017:
sales of ~$2.7 billion to ~$2.8 billion
interest expense of ~$45 million
tax rate of ~37%
EPS of $2.65–$2.85
capital expenditure of ~$90 million
free cash flow of $130 million–$160 million
This guidance does not include any impact of future strategic acquisitions, divestitures, investments, business combinations, or other transactions.
For ongoing analysis of this sector, please visit Market Realist's Consumer Discretionary page.