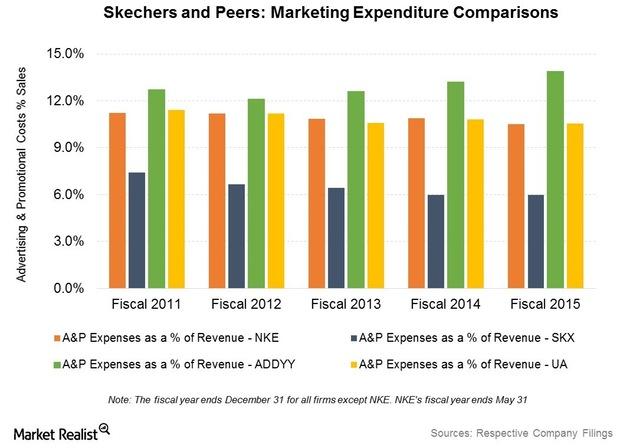 Marketing and Branding: How Skechers Sells Its Footwear Products
"Unseen. Untold. Unsold": An overview of Skechers' selling strategies
Skechers (SKX) caters to a wide range of demographic segments and markets several footwear lines. To maintain its market share and drive sales (XLY), Skechers spends considerable time and effort in marketing and branding activities to promote its footwear globally.
The company markets its diverse footwear lines under the marketing campaign slogan "Unseen. Untold. Unsold." Skechers uses a mix of television, print, outdoor media, promotional events, and social media, among others, to reach its audience.
Skechers' marketing expenditure rose from ~$119 million in 2011 to $188 million in 2015, a CAGR (compund annual growth rate) of 12.1% over the period.
Article continues below advertisement
Article continues below advertisement
Celebrity endorsements
Skechers often targets specific footwear lines with celebrity endorsees. For example:
Skechers' Lifestyle lines are marketed by celebrity endorsees Demi Lovato and Joe Montana, among others.
Skechers' Golf footwear advertisements feature athletes Colin Montgomerie and Matt Kuchar, among others.
For its Performance division, SKX's advertisements include runners such as Meb and Kara Goucher.
With a focus on tweens and teens, Skechers also signed pop icon Meghan Trainor as a celebrity endorsee this year.
Competitors such as Nike (NKE), Under Armour (UA), and Adidas (ADDYY) endorse their products by sponsoring sports teams. They also endorse their products through sponsorships of high-profile athletes such as LeBron James and Stephen Curry.
Skechers has a fun and easygoing image, while companies such as Nike cater to high-performance products, and their marketing efforts reflect the technical appeal of their products. These companies also focus more on digital and social media platforms to reach out to existing and new customers, compared to more traditional print and television media. They have thriving digital fitness communities numbering in the millions.
As a result of its different approach to marketing, Skechers has incurred relatively low expenditure compared to its rivals, as we can see in the chart above. It's also a much smaller company compared to Nike and Adidas, though it's growing fast.