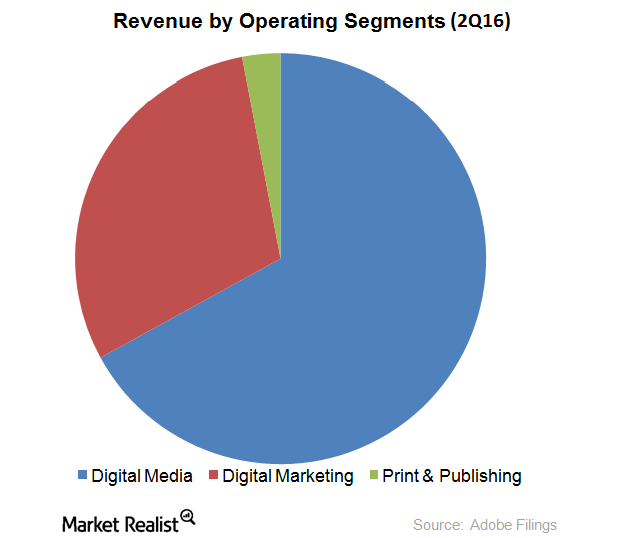 A Look at Adobe's Operating Segments in Fiscal 2Q16
Adobe's operating segments continued their double-digit growth
As we saw in the previous part, Adobe Systems (ADBE) announced its fiscal 2Q16 earnings on June 21, 2016. Now let's take a look at the company's operating segments: Digital Media, Digital Marketing, and Print and Publishing.
The Digital Media segment contributes the most toward Adobe's overall revenue, as you can see in the graph below. It's followed by Digital Marketing. Print and Publishing only contributed 3% to the company's fiscal 2Q16 revenue.
Article continues below advertisement
Adobe's performance in fiscal 2Q16 was due to Digital Media's better-than-expected performance. Increased adoption of the cloud enabled Adobe to record better-than-expected growth in Creative Cloud subscriptions and Adobe Marketing Cloud revenues. As a result, revenue for the Digital Media segment rose 26% to $943 million.
Adobe Marketing Cloud continued to play an integral role in Adobe's Digital Marketing segment growth in fiscal 2Q16. Despite increased initiatives by Oracle (ORCL) and Salesforce.com (CRM) in the Marketing Cloud space, Adobe still leads the space. This explains why Adobe (ADBE) is expected to be the other bidder for Demandware when Salesforce.com (CRM) announces its acquisition.
Adobe continued to be a leader in the Digital Marketing space, according to IDC (International Data Corporation). Recently, Forrester Research named Adobe a leader in Enterprise Marketing Software Suites based on offering, strategy, and market presence.
Adobe reported revenue growth across all geographies
Adobe Systems generates the majority of its revenue from US markets. In fiscal 2Q16, Adobe earned about 59% of its revenue from the Americas. It generated the remaining 27% and 14% of its total revenue from the EMEA (Europe (EZU), the Middle East, and Africa) region and Asia (AAXJ), respectively.
All regions reported a rise in revenue in fiscal 2Q16. The Americas increased 22%, while EMEA and Asia increased 17.5% and 17%, respectively, on a year-over-year basis.
Next, let's see how Adobe's Digital Media segment helped it post growth in fiscal 2Q16.