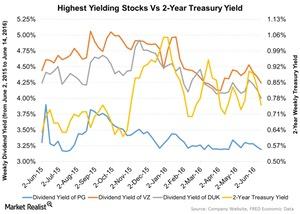 How Would an Interest Rate Hike Affect the Stock Market?
By Lynn Noah

Jun. 29 2016, Published 10:03 a.m. ET
Interest rate hikes
In general, rising interest rates are thought to be negative for the stock market. A hike in interest rates increases the cost of borrowing for companies. Most publicly traded companies carry at least some debt to fund their operations, and higher borrowing costs can cause their profit margins to contract.
Article continues below advertisement
Pros and cons of a hike in interest rates on stocks
Higher rates make bonds more appealing to investors compared to stocks. Bonds are generally safer, and a higher rate generally increases demand for bonds and may hurt demand for stocks.
Generally, high-dividend yields stocks are sensitive to interest rates because they offer attractive investment opportunities in a low-yield environment, which was the case in the past several years. Consumer staples (XLP) (PG) (WFM), telecom (telecommunications) (VZ) (IYZ), and utility (XLU) (DUK) stocks fall into this category. Further, stocks are assumed to be riskier investments than bonds, so when the risk-free rate of return increases, investors may be more inclined to sell their stocks and buy assets with guaranteed income streams. Thus, high-dividend yield shares could lose some of their shine.
The above graph depicts the relationship between the two-year Treasury yield and high dividend-yield stocks, specifically Procter & Gamble (PG) in the consumer staples sector, Verizon Communications (VZ) in the telecom sector, and Duke Energy (DUK) in the utilities sector.
A rise in interest rates indicates that the economy is strengthening. As the economy expands, companies tend to sell more products and possess more pricing power, which generates higher profits.
In the next article in this series, we'll discuss how different industries are impacted by rate hikes.