Intel Is a Blend of Acquisitions, Joint Ventures, and Organic Growth
Intel's acquisitions mostly revolve around vertical integration where it integrates the acquired company's technology into its microprocessors.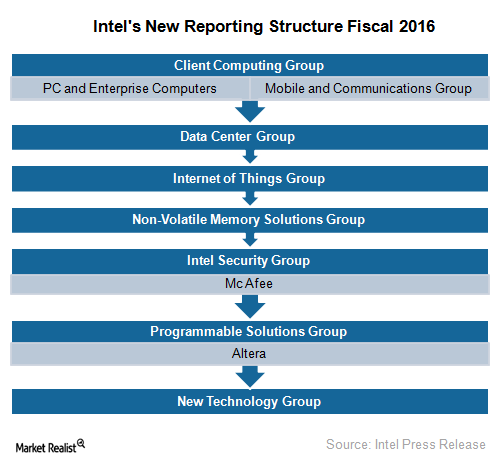 Organic growth and acquisitions
So far, we've looked at Intel's (INTC) technology model and its manufacturing structure. Intel has a very capital-intensive structure, as developing technology from scratch and implementing it is both time-consuming and expensive. With competition picking up, the company resorted to acquisitions to secure new technology while continuing its organic growth.
Intel's acquisitions mostly revolve around vertical integration where it integrates the acquired company's technology in its microprocessors.
Article continues below advertisement
Article continues below advertisement
In 2015, Intel acquired Altera to integrate its FPGA (field-programmable gate array) technology in its data center, IoT (Internet of Things), and memory chip business.
In 2011, Intel acquired McAfee to integrate its security solutions in its chips.
In 2010, Intel acquired Infineon's baseband segment to integrate its wireless technology in its chips.
Joint ventures
Acquisitions are an expensive way to develop technology, and Intel has a history of failed acquisitions where the deals didn't generate the desired results. Thus, the company also entered into multiple manufacturing and technology JVs (joint ventures) to distribute the cost of manufacturing and technology development.
Intel has a JV with Micron Technology (MU) to develop and manufacture memory chips. It also has a JV with China (MCHI) to develop server chips.
These acquisitions and JVs expanded Intel's product portfolio. While it integrated these products into its microprocessors, it also started selling them as standalone products that led to the creation of various business segments.
Seven business segments
Intel's core business, which it has built organically, is microprocessors for computers, data center, mobile, and IoT.
The acquisition of Altera created PSG (Programmable Solutions Group), which sells FPGAs (field programmable gate arrays).
The acquisition of McAfee created ISecG (Intel Security Group), which sells security software products.
The Micron JV created NSG (Non-Volatile Memory Solutions Group), which sells memory products such as NAND, SSDs (solid state drives), and 3D XPoint.
Other than organic and non-organic growth, Intel created a new segment for future growth. The NTG (New Technology Group) focuses on niche markets such as drones and computing technologies that are at a perceptual stage such as quantum computing.
Intel supplies chips to OEMs (other equipment manufacturers), ODMs (other design manufacturers), and industrial and communications equipment manufacturers. Hewlett-Packard (HPQ) and HP Enterprise (HPE) are Intel's largest customers, accounting for 18% of its revenue in 2015.
We'll look at each of the seven segments in detail in the coming parts of the series.