How Will AMD's Price Strategy Impact its Earnings?
In fiscal 1Q16, Advanced Micro Devices reported strong guidance for fiscal 2Q16, whereas behemoths Intel and Qualcomm reported weak guidance.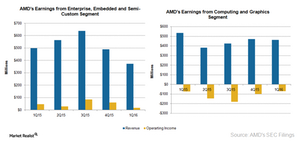 AMD's revenue growth in fiscal 2016
In fiscal 1Q16, Advanced Micro Devices (AMD) reported strong guidance for fiscal 2Q16, even though behemoths like Intel (INTC) and Qualcomm (QCOM) reported weak guidance. AMD increased its guidance over the anticipation of strong growth in semi-custom processor sales and licensing revenue from its joint venture in China (FXI).
However, AMD's Radeon RX 480 GPU (graphics processing unit) sales would only be reflected in AMD's fiscal 2H16 earnings. For this period, the company is expecting growth in sales and a transition from loss to profit.
Notably, AMD earns 45% of its revenue from its EESC (Enterprise, Embedded, and Semi-Custom) segment, and this is the only segment that earns profits. It's CCG (Computing and Graphics) segment accounts for 55% of its total revenues and has been making losses for quite some time.
By lowering the price of Radeon RX 480, the company plans to expand the addressable market of GPUs and increase the share of semi-customs toward its total revenue. This would increase the overall share of the profitable segment and help AMD increase its revenue and profits.
Article continues below advertisement
Article continues below advertisement
Will AMD be able to sustain lower pricing in the future?
Will AMD be able to sustain low pricing in the future? One possibility is that the move to 14 nm (nanometer) from 28 nm would bring in cost benefits, according to Moore's law. According to the Moore's law, the cost per transistor would reduce with every downsizing in node capacity while performance improves.
AMD may pass on the cost benefits to its customers to grow in volume. Higher revenue and lower cost of production would ultimately improve profits and cash flow.
Pricing
AMD would manufacture most of its future GPUs on the 14 nm node, which means it would be in a position to aggressively price its GPUs in the future. However, there are concerns that this would hamper the company's existing GPUs, which are highly priced.
If the company lowers the price of its existing GPUs, its profit margins would take a hit in the short term. But this depends on how well the Radeon RX 480 GPUs can offset the impact. In a nutshell, we can safely say that AMD may post revenue growth in fiscal 3Q16, but it may take more time to improve margins, which could see growth in fiscal 4Q16.
Now let's analyze the impact of AMD's pricing strategy on NVIDIA (NVDA).