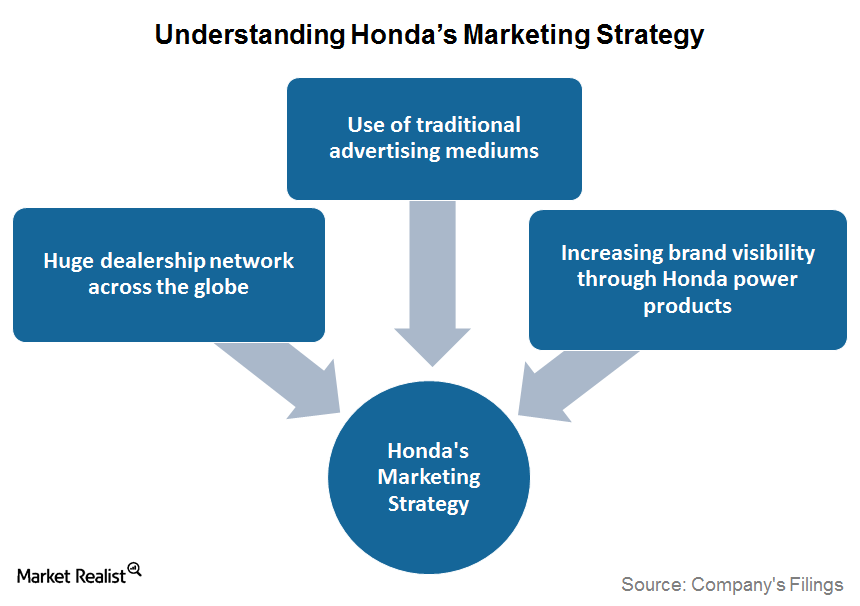 How Has Honda's Marketing Strategy Helped It Grow?
Honda's marketing strategy
Honda Motor Company (HMC) is a mainstream automaker and the largest motorcycle manufacturer in the world. However, the company has seen many ups and downs in its nearly 70-year-long journey.
In this article, we'll look at Honda's market strategy. First, let's look at Honda's history to see how its marketing strategy helped it to grow its business in the US.
Article continues below advertisement
Expansion in Japan
In 1952, Honda Motor Company used a unique marketing strategy to expand its business in Japan. At the time, the company was facing challenges due to its weak dealership and distributorship network.
Takeo Fujisawa, the managing director of Honda Motor Company, decided to contact all bicycle shop owners by direct mail. He compiled a list of 50,000 bicycle shops in Japan and urged them to join Honda in selling its motorized bikes.
This was not an easy task, as the addresses on all 50,000 mail pieces had to be written by hand. However, Fujisawa's hard work paid off, and he received responses from about 30,000 bicycle shops who were willing to join Honda.
In the coming years, this strategy proved to be very successful for Honda in expanding its business in its home market.
Marketing strategy to enter the US market
In 1956, Honda Motor Company began exploring overseas opportunities for its motorcycle business. Fujisawa chose to accept the challenge of entering the US market before exploring any other overseas market.
At that time, motorcycles were not a popular mode of transportation in the US and were considered to be more of a toy than a legitimate vehicle. For this reason, Honda avoided using the word "motorcycle" in most of its ad campaigns.
In 1963, the company launched a campaign with the slogan, "You Meet the Nicest People on a Honda." Soon the campaign became widely popular among middle-class consumers in the US, boosting the company's revenues.
Current marketing strategy
According to its latest annual report, Honda (HMC) markets its products through an extensive sales network in the US. This network comprises ~1,040 independent local dealers for motorcycles, ~1,310 for automobiles, and ~8,200 for power products. Many of the motorcycle dealers and some of the automobile dealers also sell Honda's power products.
In addition, the company also uses traditional advertising channels—including print, electronic, and outdoor media—for advertising and sales promotion activities.
Among the other automakers (IYK), General Motors (GM), Ford (F), and Fiat Chrysler (FCAU) also allocate a huge budget for their traditional advertising expenses.
Continue to the next part to find out what's driving Honda's recent revenues.