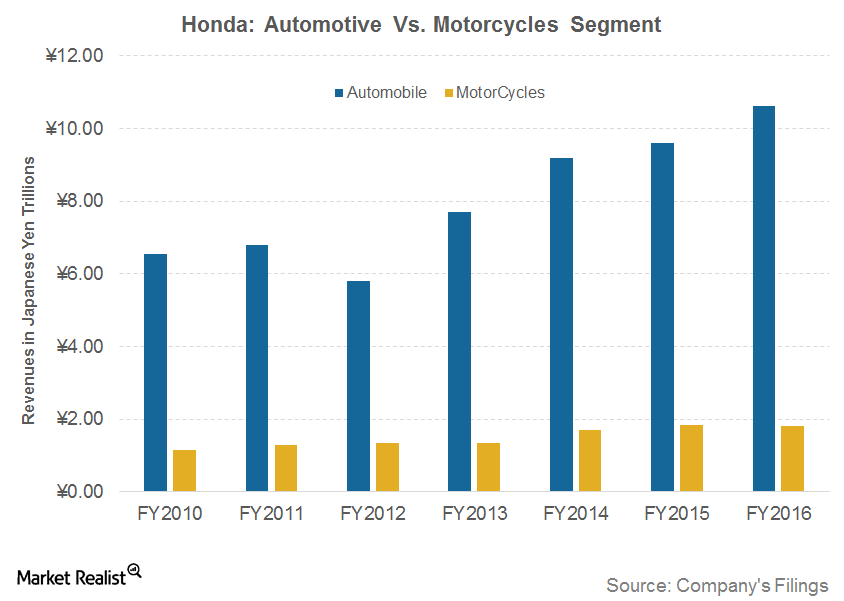 Honda Motor Company: Understanding Key Business Segments
Honda Motor Company
Previously in this series, we looked at North America, which is Honda Motor Company's (HMC) largest market. More than half of its total revenues are made up of North American sales.
In addition, the company's business is diversified in multiple reporting segments. In this part of the series, we'll take a closer look at these business segments.
Article continues below advertisement
Motorcycle segment
In its earliest days, Honda Motor Company manufactured motorized bicycles, which evolved into motorcycle manufacturing a couple of years later.
Today, Honda motorcycles are well-known worldwide, and the company is the world's largest motorcycle manufacturer by volume. However, only ~12% of the company's total revenue currently comes from motorcycle sales.
Automobile segment
By revenue, Honda's Automobile segment is the company's largest division. In fiscal 2016,[1. April 2015–March 2016] ~73% of the company's total revenues came from the Automobile segment.
Honda manufactures a wide variety of vehicles, ranging from small cars to large trucks. However, the company's presence in the SUV and pickup truck line-up is weaker than its peers Toyota (TM), General Motors (GM), and Ford (F).
Honda launched its US car sales (XLY) in 1969. The company got off to a slow start but used intensive customer surveys and follow-ups to improve its products.
The high gas prices from the oil embargo of 1973 boosted the adoption of the newly introduced Honda Civic, which was the most fuel-efficient car in the US. The Civic also had the cleanest engine, and it was the first to pass the standards set by the Clean Air Act.
Read on to the next part to learn about Honda's power products.