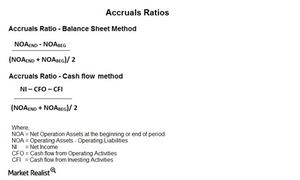 How Good Is the Quality of 3M Company's Earnings?
Understanding accruals
Under the accrual method of accounting, earnings are recognized when earned, and expenses are recognized when incurred, regardless of cash flow timing. Therefore, considerable subjectivity and judgment are involved when assigning revenues and expenses that could allow management to be flexible with its recognition.
Since cash incomes persist over time and accruals reverse in future years, a high proportion of accruals is a major red flag that a company is making abnormal accounting choices to manipulate its earnings. Note that some accruals occur as part of normal business operations. These are called discretionary or normal accruals.
Article continues below advertisement
Article continues below advertisement
Accruals anomaly
In his 1996 paper on the accrual anomaly, Richard Sloan stated that companies with small or negative accruals outperform those with large ones. He suggested that investors should focus on cash generation instead of earnings and that high accrual and low accrual companies cannot be priced at the same level.
3M's accruals ratio
There are two methods to calculate the accruals ratio: the balance sheet approach and the cash flow approach.
3M Company's (MMM) accruals ratios using the balance sheet and the cash flow methods rose considerably in 2015. Before 2015, these ratios were either negative or far lower and didn't raise major red flags. The fact that 3M had a bad year in 2015 compounds our problem. Let's investigate further in the next part of this series.
Key ETFs
Investors interested in trading in the industrials space can look into the Vanguard Industrials ETF (VIS) and the Industrial Select Sector SPDR ETF (XLI).
Major holdings in VIS include General Electric (GE) with a weight of 12.2%, 3M Company with a weight of 4.3%, and United Technologies (UTX) with a weight of 3.7%.