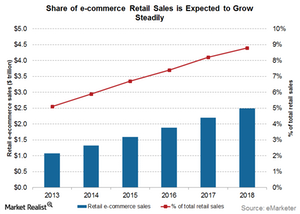 Why Gap Wants to Sell Its Merchandise on Amazon
Retailers are generally reluctant to partner with e-commerce players
The trend of retailers partnering with e-commerce players is growing. However, it has never been easy for e-commerce players to convince retailers to work with them. When Google (GOOG) started its same-day shopping service, Google Express, in 2013, it faced push-back from a number of retailers. Google Express worked on the principle that customers can place orders online from retail stores such as Staples (SPLS) and Walgreen Company (WAG) and Google would deliver the products to users.
Retailers were reluctant to join Google because although Google Express helps retailers grow their businesses, it also enables customers to avoid the need to visit stores, which reduces impulse purchases.
Article continues below advertisement
Article continues below advertisement
Gap to explore options to join Amazon
Joining Amazon (AMZN) is an even more difficult decision for retailers because Amazon can use customer buying habits on these retail platforms to its own advantage. Gap (GPS) recently announced that it will start selling merchandise on Amazon, according to a report from the Wall Street Journal. On May 19, Gap announced its 1Q16 earnings results. The company's revenues declined by a year-over-year rate of 5%, and gross margins also declined by 260 basis points.
Thus, despite the issues that lie in partnering with Amazon, Gap is still open to exploring options because of its declining business. Amazon is the largest e-commerce player in the US. According to a report from eMarketer, and as the chart above shows, the share of e-commerce transactions in total retail sales is expected to grow steadily. Listing its merchandise products on Amazon could bring back much-needed growth for Gap.