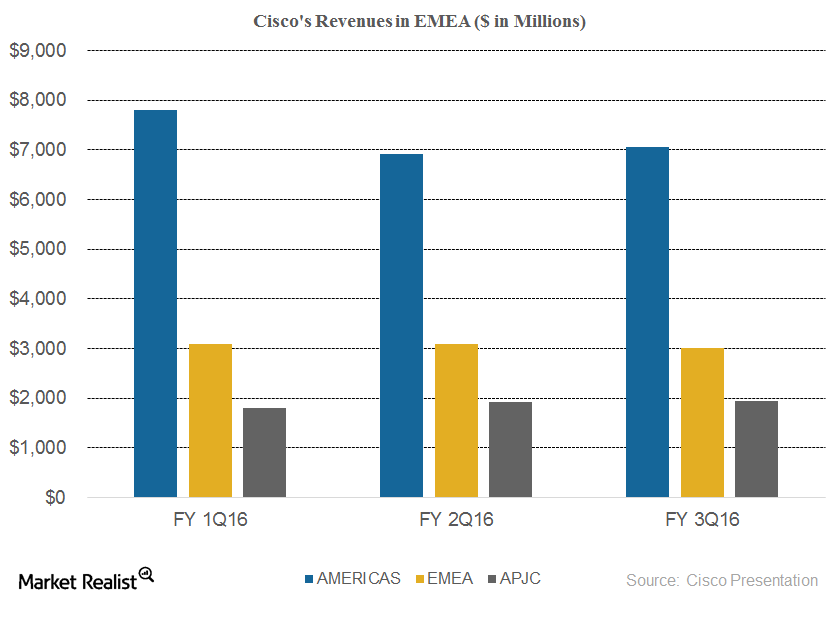 Why Cisco Shares Fell after Brexit News
<p>On Friday, technology (XLK) heavyweight Cisco (CSCO) fell 5% on news of the United Kingdom leaving the European (FEP)(EFA) Union.</p>
EMEA accounts for 25% of Cisco's total revenues
On Friday, technology (XLK) heavyweight Cisco (CSCO) fell 5% on news of the United Kingdom leaving the European (FEP)(EFA) Union.
As the chart below shows, Cisco derived 25% of its total revenues from Europe in fiscal 3Q16. This is a significant amount, so the stock fell over 5% on Friday, driven by investor concerns.
Shares of peer companies EMC (EMC) and Juniper (JNPR) fell 2% and 6.6%, respectively.
Article continues below advertisement
Article continues below advertisement
Earlier this year, UKCEO Phil Smith stated, "The company, myself and our global CEO Chuck Robbins, find the UK would be better off inside the EU. There is a whole sea of areas on why we believe it is beneficial [to stay in the EU]. The level of disruption that it causes [if the country leaves the EU] being one."
Smith had stated that the United Kingdom's exit would impact exchange rates. There should also be growing concerns over global partnerships and economic stability.
Cisco's forward PE and analyst recommendations
As of June 24, Cisco was trading at a forward PE (price-to-earnings) multiple of ~11.42x versus the industry average of 20.64x. In the trailing 12-month period, the company's PE has been 13.7x. Notably, the company is trading at a lower PE than EMC (EMC) and a higher PE than Juniper (JNPR). EMC and Juniper have forward PE multiples of 14.4x and 10.3x, respectively.
Of the 42 analysts covering Cisco, 22 have "buy" recommendations, 2 have a "sell" recommendation, and 18 have "hold" recommendations. Analysts' stock price target for the company is $31, with a median target estimate of $30.38. Cisco is trading at a discount of 9.5% to its median target.