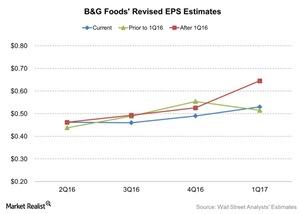 Analysts Have Revised EPS Estimates for B&G Foods: Why?
Higher earnings expectations
B&G Foods' (BGS) earnings estimates have been on an upward trend since its fiscal 1Q16 impressive results. The Green Giant acquisition, completed in November 2015, contributed to the first-quarter results.
Analysts are optimistic about the company's earnings for the upcoming quarter and fiscal 2016. They thus revised their EPS estimates by 5% after the 1Q16 results. The company is expected to benefit from the Green Giant acquisition and deliver earnings growth of 36% in the upcoming quarter.
Article continues below advertisement
Revised EPS estimates
Before BGS's 1Q16 results, analysts were expecting the company's EPS to be ~$0.44 in 2Q16. Currently, analysts expect its EPS to be $0.46, an increase of 5%. The 3Q16 and 4Q16 EPS estimate revisions don't show much of an upward trend. However, analysts expect earnings in these quarters to show a huge YoY (year-over-year) increase of 26% and 22%, respectively.
Analysts also revised the 2016 EPS estimate by 6%, to $2.12 from $2. This shows a YoY growth of 39%.
Earnings estimates for peers
B&G Foods forms 0.82% of the holdings of the iShares S&P Small-Cap 600 Growth (IJT) and 0.82% of the SPDR S&P 600 Small Cap Growth ETF (SLYG).
B&G Foods' peers have the following EPS estimates:
Management's outlook for 2016
B&G Foods' management raised its guidance for fiscal 2016 due to the company's profitable results in fiscal 1Q16, driven by the Green Giant acquisition. The company increased its earnings guidance by 4% to $2.05–$2.15. Net sales are projected at $1.39 billion–$1.42 billion. The prior projections were $1.38 billion–$1.42 billion.
The company also increased its adjusted EBITDA (earnings before interest, tax, depreciation, and amortization) guidance to $310 million–$320 million, compared to an earlier $294 million–$304 million.
Let's look next at Wall Street recommendations and the raised target price for B&G Foods.