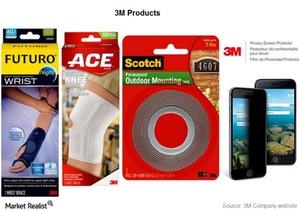 How 3M Company Differs from Other Industrial Conglomerates
Business characteristics of peers
While 3M Company's (MMM) peer group includes industrial conglomerates (XLI) such as Honeywell (HON), General Electric (GE), and Danaher (DHR), these companies hardly share any similarities with 3M.
For starters, the portfolios of companies such as GE and Honeywell are dominated by products with long repurchase cycles, such as engines, locomotives, and power generators. These machinery manufacturers earn recurring revenue through long-term maintenance contracts, which are less expensive for customers than taking care of wear and tear on an on-demand basis.
Article continues below advertisement
Article continues below advertisement
Shorter life cycles
3M, on the other hand, has 50% of its portfolio dominated by disposables such as adhesive tapes, Post-it notes, and inhalers, which are good for single uses and have short life cycles. The remaining 50% of its portfolio caters to providing equipment to original equipment manufacturers who make their own products.
In businesses where 3M's customers are manufacturers, such as the electronics (IYW) business where 3M supplies display systems to smartphone makers, sales are driven by large volumes and still have shorter repurchase cycles compared to the low-volume heavy machinery businesses of its peers.
With over 50,000 products in its portfolio catering to many diverse end markets, the company is truly diversified. Therefore, it's difficult to bracket 3M into a particular industry, and there are no true comparables for 3M.
Inelasticity to business cycles
We feel that 3M's consumables are relatively inelastic to its business cycle compared to the products of companies considered to be its peers.
Consider the healthcare division, for instance. 3M sells medical tapes, bandages, and antiseptics, whereas GE sells MRI (magnetic resonance imaging) machines and ultrasound scanners. A cash-strapped hospital is more likely to shelf its plans to buy an MRI machine until things turn greener, but it will always have to buy bandages and antiseptics. To sum it up, 3M products are almost always in demand.