How the 15% Rule Became a Stepping Stone for 3M's Innovation
3M company owes much of its innovative culture to William McKnight, who became the General Manager of the company in 1914.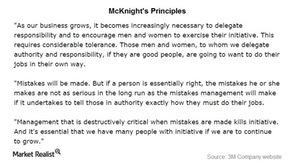 The beginning or the end?
In their endeavor to become wealthy, a lawyer, a doctor, two railroad (IYT) executives, and a meat market owner set up a business in Two Harbors, Minnesota, in 1902 to mine a hard material called corundum and market it as an abrasive.
However, it turns out that they were mining (XME) only misfortune, as the deposits were not of corundum but of an inferior soft abrasive.
In their bid to overcome this problem, the founders entered the sandpaper business and failed miserably at it too. What's the point of this story? This was the beginning of the iconic Minnesota Mining and Manufacturing Company, or 3M Company (MMM) as it's known today. It's perhaps fitting that the company's beginnings and its innovative breakthroughs are both rooted in failures.
Article continues below advertisement
Article continues below advertisement
William McKnight, the backbone of the modern day 3M
3M company owes much of its innovative culture to William McKnight, who became the General Manager of the company in 1914. He instituted the philosophy of "Listen to anybody with an idea" in what is known as the 15% rule, which is still followed today.
The 15% rule allows its employees to spend 15% of their work time on experimental doodling or experimental projects that could give way to new products.
McKnight's principles
In 1948, McKnight laid out his management principles, which form the backbone of 3M's corporate culture. Among his most important principles is this: "Mistakes will be made. But if a person is essentially right, the mistakes he or she makes are not as serious in the long run as the mistakes management will make if it undertakes to tell those in authority exactly how they must do their jobs."
In the period between 1914 and 1966, the year in which McKnight retired as chair, 3M's sales rose by 17.1% on a compound annual growth rate basis, from $264,000 in 1914 to $1.2 billion in 1966.
Modern day 3M
Following the 1950s, 3M substantially diversified its portfolio and extended its market reach in its newly entered businesses. The company's focus on innovation remains intact, and it has now also instituted the 25% rule, in which 3M derives 25% of its total sales from the products it has introduced in the last five years.
The company achieved $20 billion in sales for the first time in 2004. As of 2015, its annual sales stood at around $30 billion. Major competitors of the company are Avery Dennison (AVY), Dupont (DD), and Staples (SPLS).