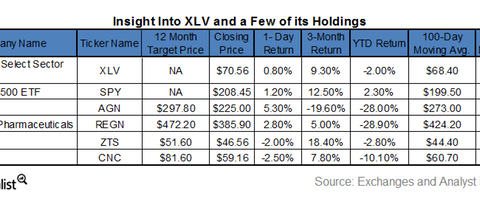 XLV Gains May 10, Trades above Its 20-Day Moving Average
By Peter Neil

Aug. 18 2020, Updated 9:30 a.m. ET
Reviewing XLV
On May 10, 2016, markets gained more than 1% due to Chinese stimulus news and the rise in oil prices. The Dow Jones Industrial Average and the SPDR S&P 500 ETF (SPY) rose by 1.4% and 1.2%, respectively. Biotech ETFs also gained for the second consecutive day. The Health Care Select Sector SPDR ETF (XLV) gained 0.8% for the day. With today's gain, XLV surpassed the 20-day moving average price of $70.5. On April 11, 2016, XLV's 20-day moving average price was $68.1. This indicates an upward trend for the ETF.
Article continues below advertisement
The above table provides information on the current prices, returns at different time intervals, and moving average prices of XLV, SPY, and a few XLV holdings as of May 10, 2016. XLV closed at $70.56. It was trading above the 20-day and 100-day moving average. Year-to-date, XLV is down by 2%. However, in the past three months, XLV has given a return of 9.3%
Top gainers and losers within XLV
On May 10, 2016, the top gainers of XLV were Allergan (AGN) and Regeneron Pharmaceuticals (REGN). They rose by 5.3% and 2.8%, respectively. Allergan moved up on strong 1Q16 earning results. Regeneron rose following the Market trend. Allergan has a weight of 3.2% and Regeneron Pharmaceuticals has a weight of 1.2% in XLV's portfolio.
The top losers within XLV were Centene (CNC) and Zoetis (ZTS). They fell by 2.5% and 2%, respectively. Centene fell due to profit-booking. Zoetis fell due to selling pressure. There were talks that Bill Ackman sold $800 million worth of Zoetis. Centene and Zoetis have a weight of 0.4% and 0.8%, respectively.