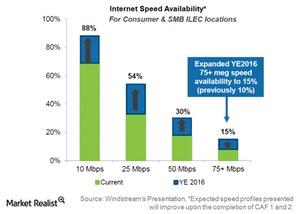 How Did Windstream's Consumer and Small Business Segments Perform?
By Ray Sheffer

Updated
Windstream's Internet speeds in the consumer and SMB ILEC space
In the last part of the series, we learned about the consumer broadband losses Windstream Holdings (WIN) continued to witness in 1Q16. Moreover, the adoption of higher Internet speed buckets positively affected unit revenues, according to the company. One of Windstream's key 2016 priorities is increasing consumer and SMB (small business) ILEC (incumbent local exchange carrier) revenue.
During the 1Q16 earnings conference call, Anthony Thomas, Windstream's CEO and president, said, "we will grow Consumer and SMB ILEC segment revenue this year, while monetizing significant upgrades to our broadband infrastructure and through sales of new product offerings. We will complete Project Excel, allowing us to bring faster Internet speeds to more people while upgrading the network for the future."
As we can see in the above chart, the telecom company expects Internet speeds above 75 Mbps (or megabits per seconds) to be in 15% of its consumer and ILEC locations by the end of 2016.
Moreover, as per the company, 54% of these locations are expected to get 25 Mbps speeds by the end of the same period. This is particularly significant considering the company's overlapping footprint with US (SPY) cable players in the consumer and SMB ILEC Internet footprint.
Article continues below advertisement
Windstream's consumer and SMB ILEC broadband footprint
As per Windstream's 4Q15 earnings presentation, the wireline player competed with cable companies in ~83% of its Internet footprint in the consumer and SMB ILEC space.
As per the presentation, a key competitor in this space is Time Warner Cable (TWC). Moreover, Windstream had ~24% overlapping market in this broadband space with Time Warner Cable. The comparable market overlap with Comcast (CMCSA) and Charter (CHTR) was ~12% and ~6%, respectively.