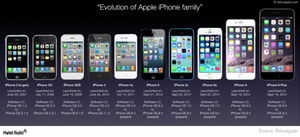 What's the Latest on Apple's New iPhone 7?
By Puja Tayal

May. 27 2016, Updated 2:27 p.m. ET
Rumors surround the iPhone 7
So far, we've seen how semiconductor stocks reacted to the rumor about Apple's (AAPL) decision to produce a record number of iPhone 7 units. We've also seen how this would impact the earnings of semiconductor suppliers such as Cirrus Logic (CRUS), Skyworks Solutions (SWKS), and Qualcomm (QCOM). This is just one of the rumors ahead of the iPhone 7 launch. Let's look at the other rumors surrounding the flagship smartphone.
Article continues below advertisement
Three models of iPhone 7
Several reports have been circulating in China (MCHI) that Apple may launch the following three models of its new flagship iPhone: iPhone 7, iPhone 7 Plus, and iPhone 7 Pro/iPhone 7 Plus Premium. The first one would have a 4.7-inch screen, and the other two would have 5.5-inch screens.
According to Nomura Securities, all three models would have an optical image stabilization feature. That feature was exclusive for the iPhone 6 Plus and iPhone 6s Plus, premium models of the iPhone 6.
Other reports speculate that the iPhone 7 will have four speaker grills, an A10 processor, wireless charging, and a 3GB (gigabyte) RAM (random access memory). There are also leaks that for the first time, an iPhone will be waterproof and offer a 256GB storage option.
Many analysts believe these features may not be enough to encourage Apple users to upgrade their phones. But one feature that could attract users is the dual-lens camera.
Dual-lens camera
With the iPhone 7, Apple is believed to be switching to dual-lens camera modules. Several signs back this rumor. Recently, Apple acquired LinX Technology that makes multi-aperture cameras with DSLR (digital single-lens reflex) quality. Apple has also patented a dual-camera system that houses one standard wide-angle lens and one telephoto lens that can zoom in on photos and videos.
The dual-lens camera feature is believed to be available in the Plus and Pro models of the iPhone 7. However, Apple isn't the first to launch dual-camera technology. China's Huawei P9 and P9 Plus already offer this technology.
No change in design
On the external design front, no major change is expected to the iPhone 7. There may be a few changes such as the 3.5mm (millimeter) headphone jack and updated antenna design. 
A major design change is expected to come in 2017 with the iPhone 7s. We'll look at that in the next part of the series.