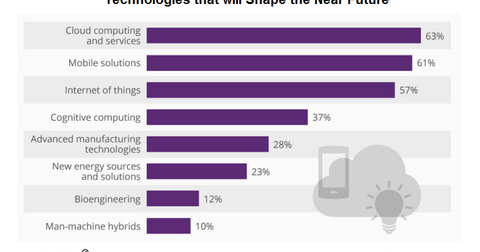 Does Salesforce Really Pose a Threat to Oracle and SAP?
By Anne Shields

Updated
Salesforce: Gaining market share from Oracle and SAP?
Previously in this series, we talked about various factors that have worked in unison to enable Salesforce (CRM) to exceed analysts' expectations and its own guidance in fiscal 1Q17. Over the past couple of quarters, Salesforce has posted double-digit revenue growth. Responding to how the company manages to grow in the competitive cloud space, Salesforce co-founder and CEO Mark Benioff stated that "This is amazing I think that one of the reasons that we are doing so well is because Oracle and SAP are doing so poorly in the cloud."
Article continues below advertisement
According to Synergy Research, Amazon (AMZN), Microsoft (MSFT), IBM (IBM), and Google (GOOG) (GOOGL) account for more than half of the cloud space. Therefore, although Salesforce may not have made the top five, it is a player many companies would go to for their SaaS (software-as-a-service) requirements. The company has "signed three deals in the nine-figure range." SunTrust Robinson Humphrey analyst John Rizzuto stated that "we expect larger entities to be spending greater dollars with Salesforce."

Salesforce's initiatives
In addition to strategic partnerships to enhance its growth opportunities, Salesforce is making strategic acquisitions. In April 2016, Salesforce acquired MetaMind. MetaMind is a deep learning and AI (artificial intelligence) startup backed by Marc Benioff. The MetaMind acquisition is expected to enhance Salesforce's AI capabilities and customize customer support, marketing, and several other business functions.
In March 2016, Salesforce acquired PredictionIO, a machine learning startup. Back in 2014, Salesforce acquired RelateIQ, a relationship management software startup, for $390 million. RelateIQ's relationship intelligence platform eliminates data entry and works independently. It doesn't require human interaction to capture and analyze unstructured data coming in different formats, such as audio, video, and email. Salesforce integrated RelateIQ's predictive tools with its own products.
Benioff has high expectations from the AI space, stating that "what I see is an AI first world, and for every customer, going to be able to get a whole another generation of productivity out of artificial intelligence, machine learning, and deep learning."
Investors who wish to gain exposure to Salesforce could consider investing in the iShares Core S&P 500 ETF (IVV). IVV has an exposure of ~8.4% to application software and invests 0.27% of its holdings in Salesforce.