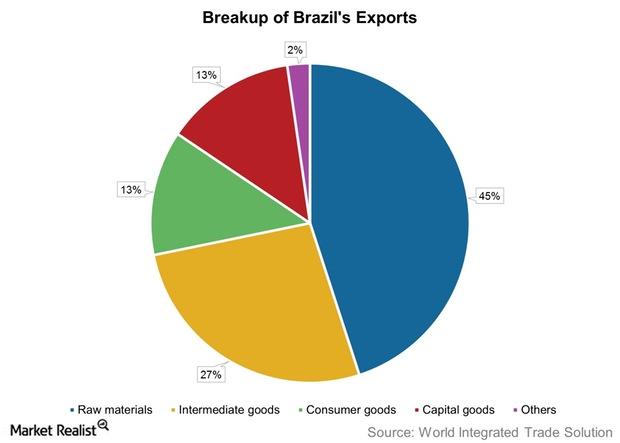 What Role Do Commodities Play in Brazil's Economic Output?
By David Ashworth

May. 16 2016, Published 2:53 p.m. ET
A breakdown of Brazil's exports
Exports are not a very large component of Brazil's economic output. In terms of chained 1995 prices, exports formed 6.5%–7.5% of Brazil's GDP in 1996. They peaked at 14.4% in 3Q06, and as of 4Q15, they formed 13.5% of GDP. What's important to understand is the role that commodities play in Brazil's output.
Data from WITS (World Integrated Trade Solution) showed that raw materials formed 45% of Brazil's exports in 2014. Brazil's top five exported commodities are soybeans, iron ore and concentrates, petroleum oil and products, raw cane sugar, and oil cakes and other solid residue.
With its primary products forming such a large share of exports, a fall in demand is highly detrimental to Brazil's economic output. A fall in domestic demand and other factors have contributed to the contraction in Brazil's economy.
Article continues below advertisement
The importance of China to Brazil's exports
Even given its geographical proximity to the United States, Brazil's biggest export destination is China (FXI). On the other hand, its Latin American peer Mexico (EWW) trades the most with the United States. This has been a major difference between the performances of these two countries. While the United States has remained broadly healthy, a sharp slowdown in China has created further problems for Brazil, which was already facing a fall in domestic demand.
According to WITS, Brazil's exports to China formed 18% of its total exports, followed by the United States, to which Brazil exported 12% of its total exports. As of 2014, Brazil's total trade with China, including imports and exports, stood at $78 billion. Exports of soybean, iron ore, and oil products form ~80% of Brazil's total exports to China.
According to the ECB's (European Central Bank) Economic Bulletin, Issue 1/2016, "The most significant factors in explaining the decline in Brazilian GDP since mid-2014 have been adverse commodity price developments and shocks to domestic factors."
The report further notes, "The prices of iron ore and raw sugar – which account for 13% and 5% respectively of total exports – have been falling since 2011." Given their high compositions in Brazil's total exports, the price falls of these commodities have contributed significantly to the country's falling economic output.
Though several Brazilian stocks have benefited from the recent rally, a few (ERJ) (BAK) (FBR) haven't. Before moving on to what investment managers think about Brazil, let's take a brief detour and see how Brazil's financial markets and related instruments have performed.