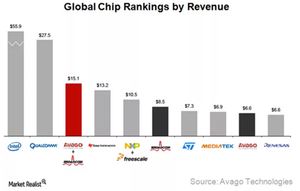 What Revenue Synergies Would a Fairchild-ON Merger Bring?
FCS and ON have complementary product portfolios
In the previous part of the series, we saw that ON Semiconductor (ON) and Fairchild Semiconductor (FCS) reported differential growth in QoQ (quarter-over-quarter) revenue due to different exposures in the industrial market. Both companies have complementary products and the same customer base across the same geographies.
ON supplies analog, digital, mixed-signal ICs (integrated circuits), and image sensors for the automotive, consumer electronics, computing, communications, and industrial markets. The industrial market includes medical, military, and aerospace. Fairchild manufactures power analog and discrete semiconductors. It also provides MEMS (micro-electro-mechanical systems) solutions for the same end-consumer markets.
This creates a good opportunity for a merger to tap revenue and cost synergies. In November 2015, ON and FCS signed a merger agreement in which FCS would become a wholly owned subsidiary of ON.
Article continues below advertisement
Revenue synergies
Fairchild's strong portfolio in the high voltage and medium voltage power semiconductor market complements ON's portfolio in the low voltage and small-signal market. Although they serve the same customer base, there are no major products or revenue overlaps. ON is looking to benefit from this product mix and broaden its power semiconductor offerings.
A combined company
An FCS-ON merger would make ON the second-largest semiconductor company in the power semiconductor discrete market after Infineon Technologies (IFNNY). The combined company would be able to enhance its value proposition to its customers by offering solutions across a broad voltage spectrum. It would target the industrial, automotive, and smartphone markets.
The combined company would have an annual revenue of around $5 billion, a combination of ON's and FCS's fiscal 2015 revenues of $3.5 billion and $1.4 billion, respectively. This would put the combined company on the list of the top ten non-memory semiconductor companies in the world.
Fairchild: An attractive acquisition target
Fairchild has been an attractive acquisition target. Infineon Technologies and STMicroelectronics (STM) both bid for FCS before ON bagged the deal in November 2015. FCS then received a better offer from Chinese (FXI) investors in December 2015. But it rejected the offer on grounds that it wouldn't get US regulatory approval. US authorities had already rejected Tsinghua's offer to acquire Micron Technology (MU).
In the next part of the series, we'll look at the operating efficiencies of FCS and ON as separate entities and the impact on their profit margins.