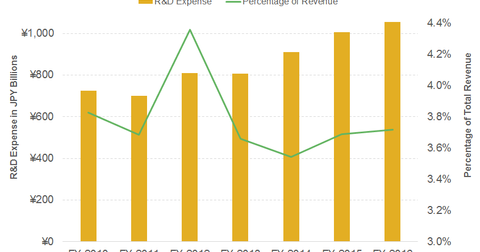 How Research and Development Is Important to Toyota's Business
By Jitendra Parashar

Jun. 2 2016, Updated 8:05 a.m. ET
Research and development
Previously, we looked at how Toyota (TM) uses its Financial Services arm to boost sales in its key markets. In the auto industry, product development is an ongoing process. For this reason, all major automakers allocate huge portions of their budgets for their research and development (or R&D) work to gain a competitive advantage.
In this part of the series, we'll find out why Toyota's research and development initiatives play a critical role in its automotive business.
Article continues below advertisement
Toyota's R&D expenses
In fiscal 2016 (April 1, 2015–March 31, 2016), Toyota spent ~3.7% of its revenue, or about 1,055 billion Japanese yen, on its R&D program for its vehicles.
This R&D budget allocation as a percentage of revenue is lower than those of other legacy automakers (XLY), including General Motors (GM) and Ford (F). GM spent about 5% of its revenue on R&D, and Ford's R&D expenditure accounted for 4.5% of its revenue.
Notably, the Italian luxury supercar maker Ferrari (RACE) allocates the highest portion of its budget to R&D. Ferrari's R&D budget typically ranges from 19%–21% of its revenue.
Goals of R&D at Toyota
According to Toyota, its current R&D activities are primarily focused on the following key factors:
The company aims to improve the hybrid technologies further. This includes the improvement in performance of hybrid vehicles and efforts to reduce their costs, as well as contribute to the environment through advancements.
The company intends to improve its gasoline engine's fuel economy as well as improvement in technology in connection with more stringent emission standards.
The company aims to promote improvements in functions and fuel economy of clean diesel engines.
The company intends to increase the efforts to develop electric vehicles, fuel cell vehicles, and other alternative fuel vehicles.
The company aims to continue its technological development targeted to promote driving and vehicle safety.
Continue to the next article to find out how Toyota's key leverage ratios look.