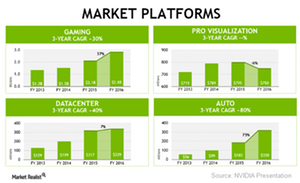 The Past, Present, and Future of NVIDIA
By Puja Tayal

Updated
NVIDIA's business model
As we come to the end of the series, we understood NVIDIA's (NVDA) two-part business model and how it replicated this model in the gaming, professional visualization, accelerated data center, and automotive markets. The four markets together accounted for 86% of the company's revenue in fiscal 2016 as compared to 52% in fiscal 2013.
Let us see how this strategy fared for the company so far and the growth opportunities it presents in the future.
Article continues below advertisement
Performance so far
As seen from the above graph, the business model has fared well for the gaming, data center, and automotive markets. These markets have grown at a CAGR (compounded annual growth rate) of 30%, 40%, and 80%, respectively, over the past three years.
NVIDIA's growth is likely to increase further as the trends of gaming, VR (virtual reality), deep learning, and self-driving cars pick up pace.
Gaming
NVIDIA competes head-to-head with Advanced Micro Devices (AMD). NVIDIA's GeForce platform dominates in the PC gaming space, and AMD's Raytheon platform dominates the gaming console and VR headset space. The growing popularity of eSports is driving the demand for PC gaming in the emerging markets (EEM).
The PC gaming hardware market is expected to grow from $24.6 billion in 2015 to $30 billion by 2018, according to Jon Peddie Research
Article continues below advertisement
Virtual and augmented reality
NVIDIA competes with AMD in the VR/AR (virtual/augmented reality) space. AMD is building a VR/AR headset with Sulon Q. Even Intel (INTC) is entering the AR market by powering Microsoft's (MSFT) HoloLens AR headset.
The VR/AR market is expected to reach $150 billion by 2020, according to Digi-Capital.
Deep learning
NVIDIA is looking to accelerate its deep learning efforts through its Pascal architecture. However, Pascal could face tough competition with AMD's Polaris architecture. Both architectures are being built on FinFET (fin-shaped field effect transistor) technology.
Deep learning software market is expected to exceed $10 billion by 2024, according to Tractica.
Self-driving cars
NVIDIA is playing a key role in both the hardware and software of the self-driving cars. Even Google (GOOG) is developing a self-driving car. This is still a niche market that holds a strong growth opportunity for the company that is the first to launch successful technology.
Self-driving cars are expected to be an $87 billion market in 2030, with software getting a bigger bite of the market, according to Lux Research.
Growth opportunities, technology advancements, and macro environments seem to favor NVIDIA. The company's strong business model would help it leverage these factors and boost future revenues.