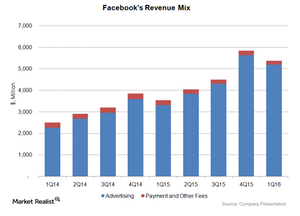 What Are Facebook's Main Revenue Streams?
Facebook generates the majority of its revenue from advertising
Facebook (FB) is one of the fastest-growing companies in the tech space, which includes Google (GOOG), Twitter (TWTR), and LinkedIn (LNKD), to name a few. The company generates a major chunk of its revenues from advertising, which accounted for 97% of the company's overall revenues at the end of 1Q16.
Facebook has a history of posting strong double-digit revenue growth with its mobile advertising segment acting as the primary catalyst. During 1Q16, Facebook's revenue jumped 52% YoY (or year-over-year) to $5.4 billion.
Article continues below advertisement
Article continues below advertisement
Advertising
Advertising revenue rose 57% YoY to $5.2 billion during 1Q16 while mobile advertising revenue saw a phenomenal growth of 75% YoY to reach $4.2 billion, representing approximately 82% of total advertising revenue. Largely due to its efforts to enhance ad targeting and optimization, Facebook saw an increase in the number of active advertisers during the quarter. Moreover, the company was able to increase user engagement in its mobile segment coupled with the rise in the number and frequency of ads displayed in the news feed.
The average price per ad for Facebook increased by 5% during 1Q16 while total ad impressions increased 50%. News feed ads have significantly higher engagement, click-through rates, and price per ad compared to right-hand column ads. So a higher proportion of ads appearing in news feeds drives up the overall average price per ad.
Payment and other fees
Facebook enables payments from its users to its platform developers. The company receives a fee from its platform developers when users make purchases using the payments infrastructure. The other fees revenue consists primarily of ad serving and measurement products and the delivery of virtual reality platform devices. Facebook said that such revenue has been immaterial in recent periods.
In 1Q16, payments and other fees revenue decreased 20% YoY to $181 million due to a decline in payments revenue from games played on personal computers. As users shift from computers to mobile, the company expects a decline in payment revenue due to less usage in the future.
To get portfolio exposure to Facebook, you can consider investing in the Vanguard Information Technology ETF (VGT).