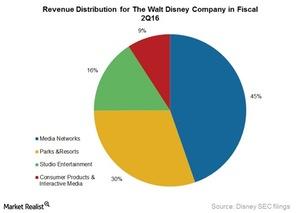 What Is Disney's Core Strategy for Its US Theme Parks Business?
Disney's domestic theme parks
The Walt Disney Company's (DIS) theme parks and resorts are doing extremely well in the United States. Disney has introduced three-tier pricing at its US theme parks to increase revenues.
Disney's CEO Bob Iger explained the pricing strategy at the March 2016 Deutsche Bank (DB) investor conference, stating that "what we did is we introduced three-tier pricing: value, which is about 25% in terms of number of days; regular, which is about 50% of the days in a given year; and premium or peak, 25 days. These are for one-day tickets to our parks."
Article continues below advertisement
At the MoffettNathanson Media & Communications Summit this month, Disney was asked about the stellar fiscal 2Q16 performance of its theme parks, especially the parks in the United States. Disney stated that an important component of the success of its domestic theme parks was that the company has been focusing more on adding attractions revolving around its core franchises and brands. Also, the company has been successful in growing its operating margins for its theme parks business by managing its costs well.
Disney's Theme Parks and Resorts in fiscal 2Q16
With revenues of $3.9 billion, an increase of 4% over fiscal 2Q15, Disney's Theme Parks & Resorts segment had a strong quarter in fiscal 2Q16. This segment had an operating income of $624 million, a rise of 10% year-over-year. The growth in operating income was primarily driven by higher guest spending at the company's theme parks in the United States. The growing importance of this segment was evident in fiscal 2Q16, as indicated by the chart above, with this segment comprising 30% of Disney's total revenues of $12.9 billion.
At the MoffettNathanson conference, Disney also stated that it is in the process of adding Star Wars attractions at its parks in Orlando and Anaheim, California. Disney is also looking at expanding in Hong Kong by adding an Iron Man attraction and constructing a new hotel in Hong Kong (EWH).
Disney makes up 0.83% of the SPDR S&P 500 ETF (SPY). SPY has a 3.5% exposure to the computer sector. SPY also holds 0.18% in 21st Century Fox (FOXA) and 0.12% in CBS (CBS).