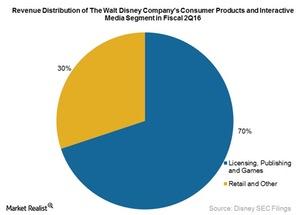 How Is Disney's Acquisition Strategy Reaping Rewards?
Success at the global box office
On May 20, The Walt Disney Company (DIS) announced that Marvel's Captain America: Civil War was set to surpass $1 billion in earnings at the global box office. Disney also announced that, together with Captain America: Civil War, the 13 movies from the Marvel Universe had earned a total of $10 billion at the global box office.
The company is also expecting a successful run at the box office for its forthcoming movies Alice Through the Looking Glass and Pixar's Finding Dory.
Disney has released 27 movies to date under the Pixar, Marvel, Disney Animation, and Lucasfilm brands. Each of these movies has earned an average of around $770 million at the global box office.
Article continues below advertisement
Disney acquired Marvel in 2009 and Pixar in 2006. The company has managed profitability and quality for these two assets post-acquisition. In fiscal 2013, for $4.1 billion, Disney acquired Lucasfilm—another winner for the company with the success of Star Wars. Disney's peer Comcast (CMCSA) recently announced the acquisition of DreamWorks Animation (DWA).
Disney's acquisitions and its consumer products business
Disney's consumer products business has also benefited from the acquisitions of Marvel, Lucasfilm, and Pixar. Disney has always maintained that a core part of its business strategy is effectively monetizing its intellectual property. Disney's acquisitions have further added to its intellectual property portfolio.
At the MoffettNathanson Media & Communications Summit, the company stated that monetizing the intellectual property created through the Marvel and Lucasfilm acquisitions contributed to the growth of its Consumer Products business.
As the graph above shows, licensing, publishing, and game revenues comprised 70%, or $829 million, of Disney's Consumer Products & Interactive Media segment's fiscal 2Q16 revenues. Retail revenues comprised the remaining 30%. In fiscal 2Q16, the segment had revenues of $1.2 billion, a decline of 2% from fiscal 2Q15.
Disney makes up 0.83% of the SPDR S&P 500 ETF (SPY). SPY has a 3.5% exposure to the computer sector and a 0.18% exposure to 21st Century Fox (FOXA).