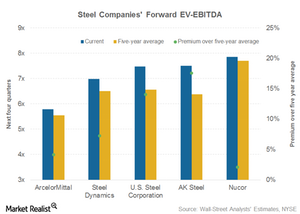 A Comparative Analysis of Steel Companies' Relative Valuations
Relative valuations
For companies in cyclical industries such as the steel industry, EV-to-EBITDA (enterprise value to earnings before interest, tax, depreciation, and amortization) is the preferred valuation metric. A forward EV-to-EBITDA multiple tells us how a company is valued for each dollar of EBITDA.
In this article, we'll look at steel companies' forward EV-to-EBITDA multiples to see if there are some underpriced or overpriced bets in the sector.
Article continues below advertisement
Valuation premium
All the companies in our coverage of stocks are trading at premiums to their respective five-year valuation multiples, as can be seen in the graph above. ArcelorMittal (MT) and Steel Dynamics (STLD) are trading at premiums of 4% and 7%, respectively, compared to their respective average five-year forward EV-to-EBITDA multiples.
U.S. Steel Corporation (X) and AK Steel (AKS) are trading at premiums of 14% and 18%, respectively, above their average five-year trading multiples. Nucor (NUE) is trading only 2% above its average five-year forward EV-to-EBITDA multiple.
Valuations have corrected
Note that steel companies' valuations have corrected in the last couple of months. The first leg of correction was more of a denominator adjustment as analysts raised their earnings estimates to reflect higher spot steel prices.
The second leg of valuation correction can be attributed to the recent pullbacks in some steel shares (SDOW) (SPXS). As a result, some of these valuations have started to look much more somber.
However, it's important to note that forward earnings estimates can change quite dramatically for commodity companies. In the next part of the series, we'll see which steel companies could see potential earnings revisions in the coming months.