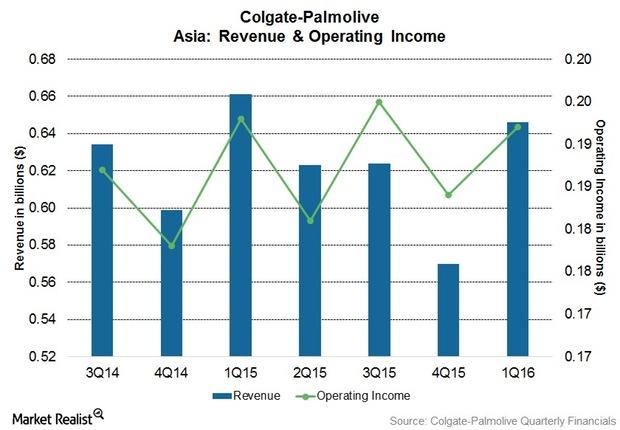 How Colgate Improved Market Share in Its Asia Segment in 1Q16
Asia segment's 1Q16 revenue
Colgate's (CL) Asia segment's net revenue decreased 2.3% to $0.6 billion in 1Q16. The decrease in revenue was primarily due to negative foreign exchange and lower pricing, which were partially offset by a unit volume increase of 4.0%. Volume gains were led by the Greater China region, India, and the Philippines. Organic sales for Asia rose 4.0% in 1Q16.
Article continues below advertisement
Operating profit and market share gains
Asia's 1Q16 operating income decreased 0.5% to $0.2 billion in 1Q16 while as a percentage of net sales, it increased 50 basis points to 29.7%. This increase was due to an increase in gross profit, partially offset by an increase in SG&A, both as a percentage of net sales.
Colgate continued its toothpaste leadership in Asia in 1Q16, driven by toothpaste market share gains in Hong Kong, Taiwan, the Philippines, and Pakistan. Toothpaste and manual toothbrush shares have been soft in select regions due to competition from Oral-B (PG). However, in India, manual toothbrush share is up 220 basis points to 45.7% year-to-date, driven by innovation in the black bristle segment.
Other products that contributed to volume growth included Colgate Slim Soft Tri Tip and Palmolive Naturals shampoo and conditioner.
Regional innovation capitalization
The company focuses on regional innovation and product localization depending on the market. In India, Colgate rolled out Colgate Pain Out, as tooth pain is one of the most common dental problems for Indian consumers. In addition, Colgate Active Salt toothpaste was launched in India with three variants to capitalize on the naturals segment.
Competitors Unilever (UL) and Kimberly-Clark (KMB) also depend on innovation and pricing to capture opportunities in emerging markets. For example, Unilever is constantly changing the presentation, bottle size, and pricing of its AXE male grooming product, depending on the geography.
CL makes 0.3% of the iShares Dow Jones U.S. ETF (IYY).[1. Updated on April 29, 2016]