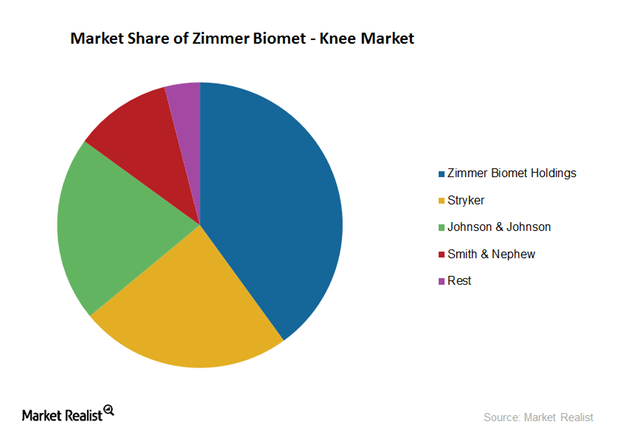 Zimmer Biomet Faces Market Share Erosion in the Knee Implant Market
Market position
Zimmer Biomet (ZBH) is the leading provider of knee implants in the United States. It has approximately 40% market share, followed by Stryker (SYK), Johnson & Johnson (JNJ), and Smith & Nephew (SNN) with about 24%, 21%, and 11% market share, respectively. Prior to the acquisition, Zimmer held ~27% share of the knee market.
Zimmer Holdings acquired Biomet in June 2015. Disruptions from the Biomet integration saw erosion in combined market share in the second half of 2015. With the company focused on efficient integration, competitors leveraged the opportunity to gain market share.
Article continues below advertisement
In addition, the company's recall of Persona, the total knee replacement system, in March 2015 provided an opportunity for other orthopedic players to seize market share. Stryker, which has been gradually gaining ground since 2010 with the success of its Triathlon device, witnessed further sales improvement in the second half of 2015. Also, Johnson & Johnson had significant growth of its personalized knee implant Attune.
Fiscal 2015 performance
In fiscal 2015, Zimmer Biomet's knee business segment reported currency adjusted revenues of approximately $2.3 billion. That represented a ~20.1% YoY (year-over-year) revenue growth, primarily from the acquisition of Biomet, which led to a broadening of the company's product portfolio. But pro forma sales for the year declined approximately 5.3% due to the following:
negative impact of the strong US dollar: 6% impact
divestiture impact: 1.1% impact
pricing pressures: 1.9% impact
The adjusted pro forma revenues reflect the impact of previously announced divestitures and the Biomet revenue inclusion. However, the segment revenues reported in 4Q15 witnessed growth, and adjusted pro forma revenues came in about 2.2% higher YoY.
For diversified exposure to Zimmer Biomet Holdings, investors can invest in the Guggenheim S&P 500 Equal Weight ETF (RSP), which holds approximately 0.20% of its total holdings in ZBH.