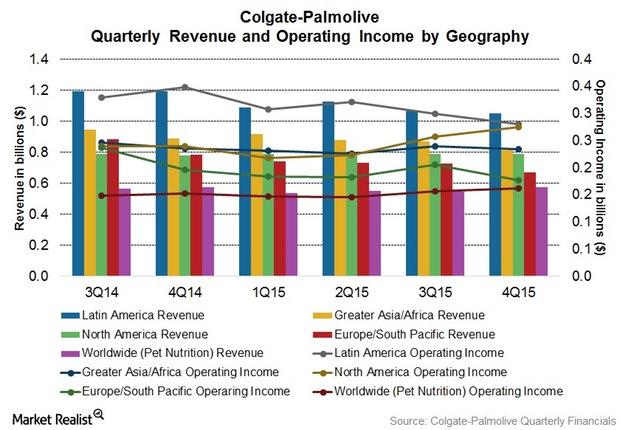 Will Colgate's Geographic Segments See Improvement in 1Q16?
Geographic presence
Colgate-Palmolive (or Colgate) (CL) is geographically diverse and derives ~77% of its total revenue from outside the United States. Procter & Gamble (PG) and Estée Lauder (EL) derive ~63% and ~63.2% of their revenues, respectively, from outside the United States. Colgate operates under the following five reportable geographies:
North America
Latin America
Europe–South Pacific
Asia
Africa-Eurasia
Article continues below advertisement
4Q15 geographic revenues and market share
Net revenue for all of Colgate's reportable geographies except North America declined in 4Q15 due to the negative impact of foreign currencies. Colgate's North American revenue increased 1.2% to $0.8 billion in 4Q15. This was primarily due to a unit volume increase of 2% and a 0.5% increase in pricing.
Although Latin America's revenue declined 11.9% in 4Q15, the region's organic sales increased 9%. This was the highest among all geographic segments. Due to strong positions in Brazil and Venezuela, Colgate will no longer include the results of its Venezuelan operations in financial statements due to devaluations. Clorox (CLX) also discontinued its Venezuelan operations.
Despite revenue decreases in the Europe–South Pacific and Asia regions, its toothpaste market share increased in Poland, the Czech Republic, Croatia, Slovenia, China, Thailand, Taiwan, and Pakistan.
For the Africa-Eurasia region, the recent launch of Colgate Maximum Cavity Protection with Sugar Acid Neutralizer in Russia and South Africa increased market shares to 35.2% and 49.6%, respectively, year-to-date.
Hill's innovation
Due to an increasing number of pet lovers around the world, the demand for pet nutrition products is on the rise. Through Hill's Pet Nutrition, Colgate is planning new introductions in the United States. They include Hill's Prescription Diet Metabolic + Mobility and Metabolic + Urinary, Hill's Prescription Diet i/d Stress and i/d Sensitive, and Hill's Science Diet Urinary and Hairball Control. These have helped drive sales in the US market.
Colgate plans new introductions internationally to drive growth. They include Hill's Ideal Balance and Hill's Science Diet Perfect Weight.
Colgate makes up ~1% of the PowerShares Dividend Achievers ETF (PFM).[1. updated April 19, 2016]
Next, let's look at Colgate's price increases and 1Q16 operating margins.