A Look at Baxalta's Product Segments
Baxalta's (BXLT) product portfolio can be divided into three parts: hematology, immunology, and oncology.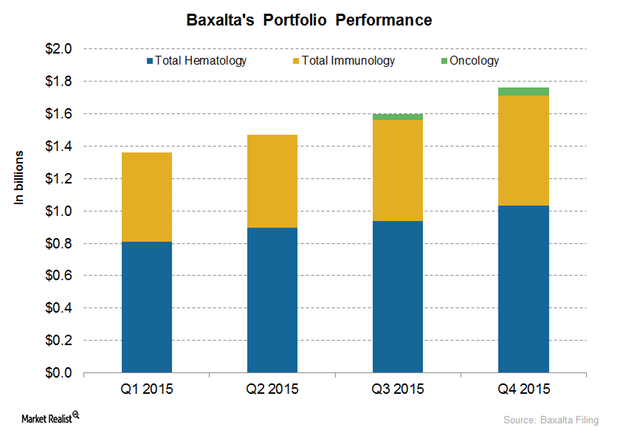 An overview of Baxalta's product categories
Baxalta's (BXLT) product portfolio can be divided into three parts:
hematology
immunology
oncology
The hematology division includes hemophilia and inhibitor therapies, whereas immunology includes immunoglobulin therapies and biotherapeutics. Whereas the hematology portfolio fetched $3.7 billion in 2015, immunology contributed $2.4 billion towards fiscal 2015 sales.
Article continues below advertisement
Article continues below advertisement
Products of each category
Hemophilia products include Advate, Adynovate, Recombinate, and Rixubis as well as plasma-derived products such as factor VII, factor VIII, and factor IX. Hemophilia drugs earned $2.8 billion for Baxalta in fiscal 2015, which accounted for ~46% of its net sales. Inhibitor therapies include Feiba and Obizur. In 2015, sales from inhibitor therapies totaled $787 million. It was the third-largest product category that year. Although the company is a leader in the hemophilia market, it competes with Bayer, Novo Nordisk (NVO), Pfizer (PFE) and Biogen (BIIB) in the space.
Immunoglobulin therapies, which include products such as Gammagard liquid, Subcuvia, and Hyqvia, recorded net sales of $1.8 billion in fiscal 2015, making up ~28.5% of the company's net sales. Biotherapeutics products include albumin and alpha-1 antitrypsin. The oncology segment includes the drug Oncaspar.
Industry-specific factors such as pricing pressure, pipeline approval, and volume uptake are some of the major factors influencing the company's share price performance. To avoid these risks, an ETF might prove to be a good option. To get exposure to Baxalta and control excessive company-specific risks, investors could choose to invest in the Health Care Select Sector SPDR ETF (XLV). Baxalta accounts for 1.0% of XLV's total holdings. We'll discuss the performance of Baxalta's hematology products in the next part of this series.