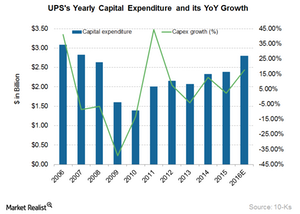 Where Is UPS Making Its Next Set of Capital Investments?
Capital investments
Previously, we learned that United Parcel Service (UPS) races far ahead of its primary rival FedEx (FDX) in terms of operating margins. Here, we'll take a close look at the capital expenditure trend of UPS.
Companies like UPS and FDX need to make substantial investments in aircraft, package handling facilities, technology, and specialized vehicles to support the business and logistics network. For 2016, UPS has anticipated an investment of $2.8 billion in the procurement of capital assets.
Article continues below advertisement
UPS's capital expenditure
In the last ten years, UPS has spent an average of 4.3% of its revenue on acquiring capital assets. Its rival FedEx has almost spent double the percentage of revenue during the same period. This was primarily due to the older fleet of aircraft. UPS's fleet is relatively young compared with FDX. FedEx has plans to retire less-efficient aircraft in order to modernize its cargo fleet.
Because the need for capital expenses is expected to go down, UPS might be able to generate better free cash flow margins, making it a better option for investors. UPS is widely known as Big Brown in the US courier industry. Big Brown's capital investments were 31% of cash from operations, whereas for FDX it was 81% in 2015. However, for FDX, the capital expenditure as a percentage of operating cash inflows remained almost 80% in the last six years.
An examination of UPS' capital expenditures over the years shows that the major share is borne by vehicles, followed by buildings and facilities. It represents spending on hub automation and capacity expansion projects in the US, Europe, and Asia. The company has spent nearly 25% of the capital expenditure in 2015 on operational and customer solutions. Since UPS completed the scheduled deliveries for Boeing (BA) 767-300ERF aircraft in 2013, UPS's capital spending on aircraft has declined.
Peer group capital expenditure levels
A close look at the peer group's capital spending based on a percentage of revenue for 2015 reveals:
Old Dominion Freight Line (ODFL) spent 15.5%
XPO Logistics (XPO) spent 3.2%
Japanese courier major Yamato Holdings spent 3.8%
YRC Worldwide (YRCW) spent 2.2%
J.B. Hunt Transport (JBHT) spent 11.7%
TNT Express NV (TNTEY) spent 3.5%
Investors interested in the logistics space can invest in the Industrial Select Sector SPDR ETF (XLI). This ETF holds close to 20% in airlines and railroads.
UPS is expected to declare its 1Q16 earnings on April 28, 2016. In the upcoming part, we will quickly go through its financials and the management's near-term expectations.