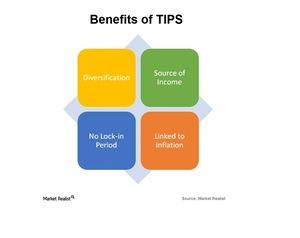 What Are TIPS and How Do They Benefit Investors?
What are TIPS?
Nominal bond yields rise due to changes in the interest rate environment and changing inflation expectations. Treasury inflation-protected securities (or TIPS) protect the value of debt securities from eroding due to rises in inflation. They are issued for periods of 5, 10, and 30 years.
A TIPS principal is indexed to the Consumer Price Index (or CPI). The principal rises with inflation and falls with deflation. Coupon payments on TIPS are applied to the adjusted principal. As a result, coupon payments provide the bondholder with a fixed amount of purchasing power.
On maturity, an investor is paid the adjusted principal or the original principal, whichever is greater. TIPS pay interest twice a year at a fixed rate. The rate is applied to the adjusted principal. Like the principal, interest payments rise with inflation and fall with deflation.
Article continues below advertisement
Primary dealers such as Credit Suisse (CS) and Wells Fargo (WFC) deal in TIPS. An investor can take exposure to TIPS through mutual funds and ETFs. Mutual funds such as the Vanguard Inflation-Protected Securities Fund Investor Shares (VIPSX) and the Fidelity Inflation-Protected Bond Fund (FINPX) provide such exposure. Meanwhile, ETFs such as the PIMCO 15+ Year US TIPS ETF (LTPZ) also invest in TIPS.
Benefits of TIPS
TIPS help to diversify an investment portfolio.
TIPS can provide a supplemental source of income.
Interest income and principal growth are exempt from state and local income taxes but are subject to federal income tax.
Since TIPS are linked to inflation, the nominal value of investment is protected.
TIPS have no lock-in period, so investors can hold them until maturity or sell them before maturity.
What if deflation occurs?
If deflation occurs, the principal is adjusted downward, and your interest payments would be less. In that case, investors could protect themselves by holding TIPS until maturity. At maturity, if the adjusted principal is less than the security's original principal, investors would be paid the original principal.
Now let's look at why large asset managers Morgan Stanley (MS), BlackRock (BLK), and Pacific Investment Management Company are recommending TIPS.