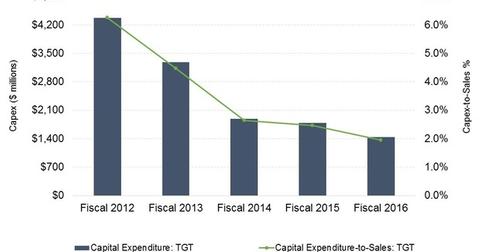 Where Is Target Spending the Bulk of Its Capital Expenditure?
By Phalguni Soni

Updated
Analyzing Target's capital expenditure components and outlook
Target (TGT) spent $1.4 billion on capital expenditure in fiscal 2016, representing about 2% of sales. In the last three years, Target's capital expenditure has revolved around ramping up its distribution and information technology (or IT) capabilities, new store rollouts, and store remodels and expansions.
In fiscal 2012 and 2013, Target incurred higher capital expenditure on store remodels and the purchase of leasehold sites in Canada from Zellers, pursuant to opening its own stores in the country. Target exited Canada in 2014.
Article continues below advertisement
Omni-channel investments
Target is focusing on its omni-channel model and making sure that its supply chain and distribution capabilities are up to the challenge of meeting higher consumer traffic on its website. It's also rapidly adding fulfillment capabilities, including ship-from-store and store pickup, to its existing retail network of brick-and-mortar stores.
The retailer spent around $1.3 billion under the IT, Distribution, and Other head in both fiscal 2016 and fiscal 2015, and $1.1 billion in fiscal 2014.
New store openings
Target also plans to spend capital expenditure on new rollouts of flexible format stores in the future. Due to a relatively low number of new store openings in fiscal 2016, capital expenditure on new stores fell by about $266 million–$115 million compared to the previous year.
Article continues below advertisement
Outlook
In fiscal 2017, Target expects to spend $1.8 billion on capital expenditure, similar to levels in fiscal 2015 and 2014. From fiscal 2018 onward, Target expects to spend $2 billion–$2.5 billion on capital expenditure per year, mostly centered on digital and supply chain investments.
Target's competitor Walmart (WMT) expects to spend $11 billion on capital expenditure in fiscal 2017, including $1.1 billion on digital and e-commerce investments and the remainder on physical stores.
Warehouse club operator Costco Wholesale (COST) plans to spend $2.8 billion–$3.0 billion on capital expenditure in fiscal 2016.[1. Fiscal year ending August 2016] Most of Costco's capital expenditure has historically centered on new warehouse openings. Macy's (M) plans to spend $0.9 billion in fiscal 2017.
S&P 500 Index components Target, Walmart, and Costco together constitute 1.3% of the holdings of the SPDR S&P 500 ETF (IVV).