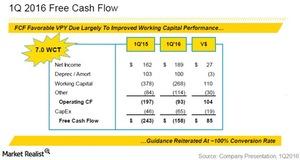 Stanley Black & Decker: Why Did Cash Outflow Decline?
By Shannon Black

Updated
SWK's cash flow position improves year-over-year
Stanley Black & Decker's (SWK) free cash flows improved year-over-year, with cash outflow in the quarter falling by $85 million to $158 million. Free cash flow positions were enhanced by stronger working capital positions, especially within inventory and accounts receivables. Working capital outflow decreased year-over-year from $378 million to $268 million. Inventory levels were drawn down on account of unexpected strong sales in March. The company also claimed to have recovered cash throughout the quarter, leading to lower receivables. In other lines, higher earned income in the quarter offset growing capital expenditures. The company reiterated its free cash flow guidance at a conversion rate of ~100% of net income.
Article continues below advertisement
Working capital turnover
The working capital turnover ratio increased year-over-year from 6.6 to 7.0. Working capital turnover, the ratio of sales to working capital, highlights how effectively a company uses working capital to generate sales. A higher number indicates that funds from sales amount to more than the funds used to generate these sales.
Should investors worry about cash outflow in the first quarter?
Investors must note that outflow in the first quarter is the effect of normal seasonality. During the quarter, the company stocks up on inventory for its tools and storage business to ensure that it is prepared to meet the demand driven by construction (XHB) activities in the second and third quarters.
Investors interested in trading in dividend-based ETFs could look into the ProShares S&P 500 Dividend Aristocrats ETF (NOBL). Stanley Black & Decker (SWK) forms 2.1% of the total holdings in NOBL. Other holdings in NOBL include Nucor (NUE) at 2.5%, Dover (DOV) at 2.2%, and Illinois Tool Works (ITW) at 2.3%.