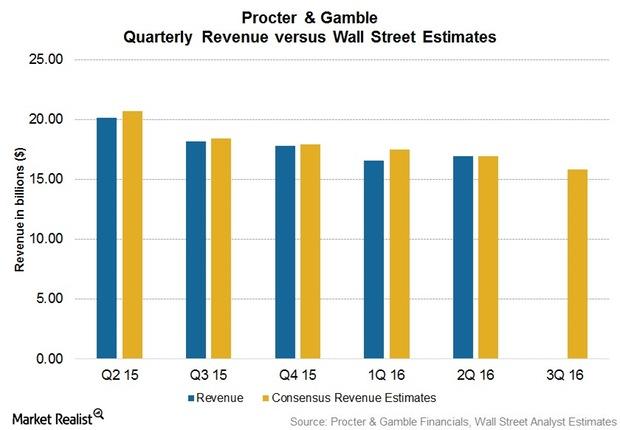 Procter & Gamble: Can Focus on 10 Product Categories Help 3Q16?
P&G missed revenue for fifth consecutive quarter
Procter & Gamble (or P&G) (PG) is set to release its fiscal 3Q16 earnings before the Markets open on April 26, 2016. The third quarter ended on March 31, 2016. In fiscal 2Q16, which ended January 31, 2016, P&G's earnings were ahead of consensus Wall Street analyst expectations. But the company missed revenue estimates for the fifth consecutive quarter.
P&G's revenue declined 8.5% to $16.9 billion in fiscal 2Q16. Reported revenue was negatively impacted by foreign exchange (8% decline) and by the Venezuelan deconsolidation and minor brand divestitures (3% decline).
Article continues below advertisement
Wall Street analyst expectations
For fiscal 3Q16, the consensus Wall Street analyst revenue estimate is $15.8 billion. That's a 14.1% decline from fiscal 3Q15 revenue.
P&G's fiscal 2Q16 organic sales increased 2%. It benefited from pricing, which increased 3%. That more than offset a 2% reduction in organic shipment volume.
For Kimberly-Clark (KMB), 4Q15 organic sales increased 5%. Clorox's (CLX) fiscal 2Q16 organic sales increased 5.5%. Colgate-Palmolive's (CL) 4Q15 organic sales decreased 5% compared to 6% in 4Q14.
Will transforming help fiscal 3Q16 results?
According to P&G's CFO (chief financial officer) Jon Moeller, P&G is transforming its cost structure and focusing on transforming its portfolio. The company plans to focus its portfolio on ten category-based business units. These ten product categories have historically grown faster with higher margins than the rest of the company, according to Moeller.
This may be the best way to leverage its core competencies. It could gain the company a leading global position and impact its top line. In line with this, P&G has divested its beauty brands in a merger with Coty (COTY). To learn more about the deal, you can read Coty Buys 43 Procter & Gamble Brands: What Investors Should Know.
In the next part, we'll take a look at the increase in EPS (earnings per share) in fiscal 2Q16 and what to expect for 3Q16.
P&G makes up 4.5% of the PowerShares S&P 500 Quality Portfolio ETF (SPHQ).[1. updated April 16, 2016]